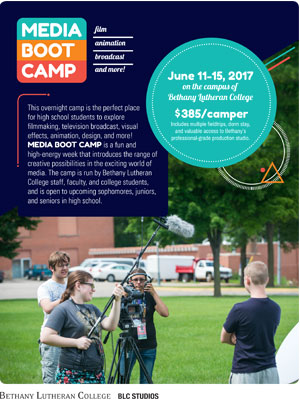 Media Boot Camp
This camp is the perfect place for high school students interested in media to try out several different methods of media creation. With support from Bethany Lutheran College studio staff, faculty, and college students, campers will use Bethany's technological resources and facilities to create short films, photos, art, animation, news broadcasts, and more. Family members and friends are welcome for a special screening of their work on the last day of camp. Campers will also live in the college dorms, take a field trip to a professional production facility, and spend a night at the movies enjoying a summer blockbuster!
When: June 11-15, 2017
Where: Bethany Lutheran College
Cost: $385/camper
Registration is now closed.
View last year's camp photos and videos!