We are proud to announce that BLC Studios—Maverick Hockey Weekend just received a Student Crystal Pillar Award for Newscast Excellence from the Upper Midwest Emmy® Chapter/Foundation in the category of College – Sports: Live Event.
David Schuyler (junior) and Paul Riediger (senior) attended the award ceremony at the Radisson Blu Hotel at the Mall of America on Sunday, April 10, 2016. "The awards ceremony was very exciting," said Schuyler. "It's one thing to say that 40 schools had been nominated, and it's another thing entirely to see them all gathered in the ballroom. The anticipation of waiting for your category to be called is really quite surreal. When they called out our names, I wasn't even sure how to react. Everything happened very quickly. It truly was an honor to be a part of such a great event!"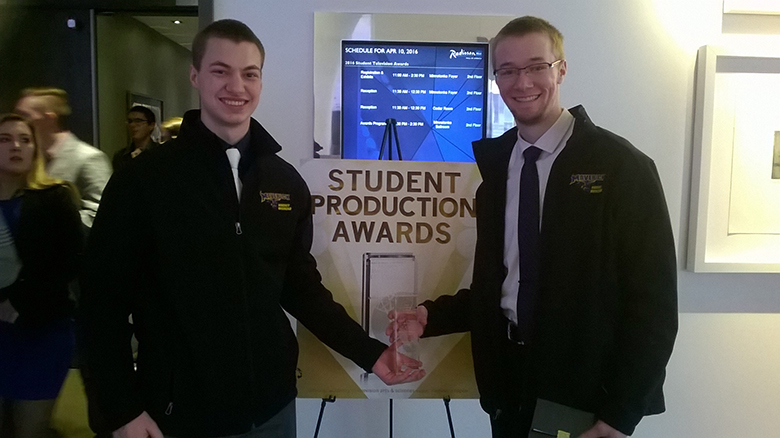 This is the third time BLC Studios has received a student crystal pillar award. This year, NATAS (The National Academy of Television Arts & Sciences) – Upper Midwest Chapter received more than 260 entries from 40 different high schools and colleges/universities from across our region, which covers Minnesota, North Dakota, South Dakota, Iowa, and Wisconsin. Students compete in 20 categories. A full list of 2016 award recipients is available at midwestemmys.org.
"It is a great honor to receive this student crystal pillar award. Our students pushed themselves all season long to put out a professional looking product and to be recognized by NATAS is a great achievement," commented studio manager Greg Vandermause. Director Paul Riediger and producer David Schuyler set the tone for the broadcast. "We ask a lot of our leaders and Paul and David did a great job of motivating their fellow crew members and continually looking to improve the broadcast."
"It's really nice to see all of our hard work amount to something," said David Schuyler. "Receiving this crystal pillar is super rewarding. It is a great accomplishment for us."
Maverick Hockey Weekend is the show name for all productions associated with Minnesota State Hockey. MHW broadcasts over 35 men's & women's hockey home games per season and also operates the state-of-the-art Daktronics video board at the Verizon Wireless Center in Mankato, Minnesota. MHW just completed its 15th broadcasting season.
Take a look at the students' 2016 submission video:
And see David and Paul accept the award at the Radisson Blu Hotel: