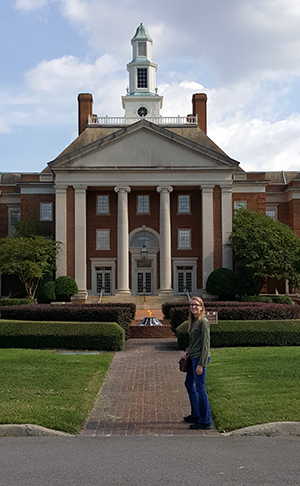 A few months after graduating in the spring of 2015, Aimee Bruss began work as a motion graphics designer at the Christian Broadcasting Network headquartered in Virginia Beach, Virginia. CBN is a global, nonprofit television network and production company with a Christian mission. The network has many ministries all around the world including the 700 Club, 700 Club Interactive (7ci), Orphan's Promise, Superbook, and CBN News.
Aimee works in the digital media department, where she creates creative content for several of the network's ministries. Some examples of her projects include typography animation for 7ci, graphics packages for CBN News, and opening graphics for the feature stories that broadcast on the 700 Club. Below are some work-in-progress screenshots of a current project in which she's responsible for the 3D elements.
Here's another cool 3D project—Aimee created this medical animation of a Diffuse Axonal Brain Injury for a story on the 700 Club:
Aimee also does quite a bit of 2D graphics at CBN, but most of her projects are in 3D. This was what she ultimately chose to focus on as a media arts student. "Technology in general just comes naturally to me. But using that technology to generate imagery that would grab the attention of someone is an exhilarating challenge," she says about her work. "This industry is always changing at a fast pace. Whether it's a new technique in motion graphics, a trending style in advertising, or the latest industry news at a creative conference, there is always more to learn and apply to the next innovative project."
Aimee is excited to be working on creative projects like this in her first job out of college. When asked what she likes most about her work at CBN, Aimee responded with "Everything! The team, the work, the location, the ministry, and so much more! I can see that God gave me opportunities to prepare for this event."
While many of our graduates go on to work for secular, for-profit companies, Aimee has found great fulfillment working for a network with a mission not dissimilar from Bethany's. "Everyone who works at CBN has one similarity," she commented, "we are all driven to spread the love of God around the world."
Aimee was involved in many campus groups and activities as a student, and she advises others to take every project (in and out of the media arts) seriously. "For example, if I wasn't involved in music, then I wouldn't have developed the leadership skills and confidence I have now," she explains. "If I didn't get involved with the Red Eye Film Festival and the Speechless Film Festival, I wouldn't have known how to manage, organize, and work with a team under tight deadlines."
These skills have certainly helped Aimee make an impression at CBN. While we were in the process of writing this update, Aimee became CBN's Employee of the Month! Great job, Aimee. We're proud of everything you're doing!
And we'll close with these words of advice from Aimee to all current and prospective media arts students:
"College can seriously be the best years of your life, so take advantage of it, make the most of it, and learn from it! Get involved. Touch everything. Now's the time when you have permission to fail. Try out something that scares you and if you fail at it, try it again and again."
– Aimee Bruss