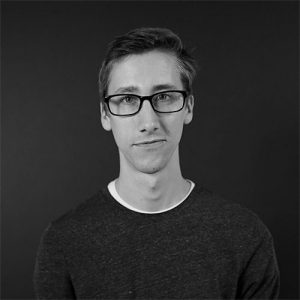 Designer/animator Andrew Maas graduated in 2012 with our first cohort of MART students. He moved to Los Angeles after graduating has since worked for several marketing companies including Digital Kitchen and NOMAD. We're writing this update because he recently started a new job as Art Director in the Visual Innovation Studio at Fox! Andrew has been doing some awesome work in LA and was kind enough to answer a few questions for us.
Please describe your current job responsibilities and how you landed in this position:
"In the Visual Innovation Studio at Fox we create social content for all the different Fox Entertainment shows. As an Art Director I take brands that may have been created for print or broadcast and adapt them or create new brands meant for social.
Since I've worked in Los Angeles for the past eight years or so, I've had the opportunity to work on a lot of projects for entertainment clients like film studios and streaming services. I think that naturally led me to have a portfolio that appealed to Fox."
What is one of your favorite creative projects from the past few years?
"One of my favorite projects that I've worked on so far is the Valley of the Boom campaign for Nat Geo. The campaign was for a show about the birth of the internet and the dot-com bubble in the late 90s. We were able to create a look for the campaign that was really eclectic and kind of a mashup of 90s tech elements, gifs, and references to early internet fads. The team I was on at the time had a lot of fun referencing internet culture throughout the campaign and creating layers and inside jokes within the content that we made."
Here's one of the Valley of the Boom promos. You can see more of these (hilarious) promos on Andrew's website, where it's noted that one of these promos was a Bronze Winner at the Entertainment Clio Awards.
This isn't the only award-winning project you'll find in Andrew's portfolio. Take a look at this piece for the Netflix series Fauda. Andrew worked on the design and animation with a team at Insync Plus (full creative credits here).
Andrew's portfolio site is full of stunning work like this. We're so proud of his skills and are excited to use some of these as examples in class! Naturally, I had to ask him to think back on his college experience and give some advice to our current students:
"One of the things I took from Bethany that I would advise students to try and learn is how to be creative within multiple mediums. You don't necessarily have to specialize in one medium or one type of work, but get excited about ideas, keep experimenting, and try to come up with good concepts or clever ways of doing things. Techniques are important, but you can always learn new techniques and you will have to continue to learn new technologies as the state of design changes. If you learn how to be creative in a variety of areas that versatility will help you throughout your career."
– Andrew Maas
Andrew is married to 2015 media arts grad Becca (Alberts) Maas. She's currently working as a wedding photographer in the Los Angeles + Southern California area and her photos are absolutely beautiful! Her reviews are impeccable on multiple wedding photography sites and she's received some great callouts. Check out her website and follow @BeccaMaas on instagram for more where this came from!