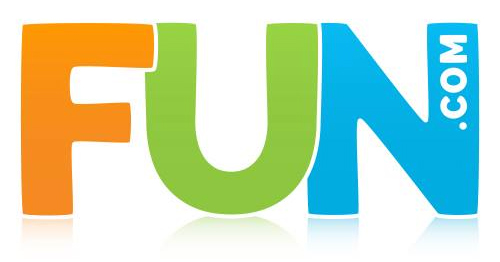 Ben Lundsten belongs to the media arts' first graduating cohort in Spring 2012. As a student, Ben was a photography junkie and filmmaker. He won vimeo's One Shot, One Kill contest for a clever black and white short, and he was part of the team that created Leaf Me Alone, which won big at the BEA Festival in 2012. After graduating, Ben worked as a photographer/designer for several local companies before beginning work at Fun.com based not far from Bethany in North Mankato.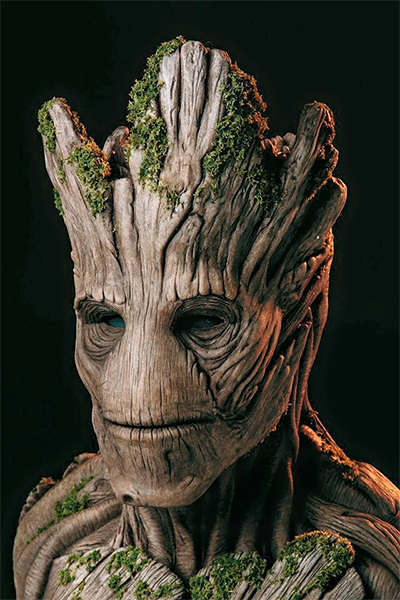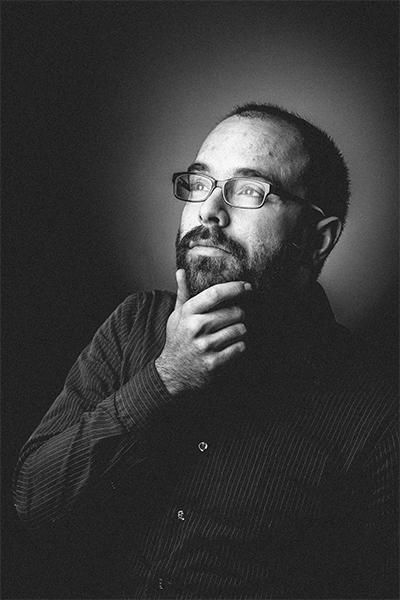 Left: Ben Lundsten
Right: Ben's product photo of Fun.com's Groot mask
Working at Fun.com certainly sounds, well, fun…but we haven't even told you what they do yet. Fun.com is in the business of selling costumes. The company grew "from a small, family-run business operating out of a garage a couple months a year into a huge, family-run business with over 100 year-round employees and thousands of season employees, operating out of a 200,000 square foot warehouse in less than a decade!"
Ben works for the business as a multimedia artist. He photographs all the new products, like Star Wars action figures, and all of Fun.com's apparel. He's also a part of the video production team, where his role includes everything from creative product concepts to lighting and camerawork.
In browsing through Fun.com's website, we found this bit of writing about their core values and expectations:
Life is better when you're just a little bit weird.

It's fairly obvious that we like to have fun around here, but anyone we actually bring on has to have a bit of a serious side as well. We need people who are dedicated, passionate, open to new ideas and willing to help out anyone, anywhere. A lot of businesses say that they are a family, but at Fun.com, we mean it. We have some of the smartest and most talented employees in the world, and we have a hunch it has something to do with the values we hold most dearly.
– Fun.com website
This fun and passionate culture is a great fit for Ben. When asked what inspires him, Ben answered "Honestly, just about anything. I try to find inspiration in everyday things like hanging out with my kids (who help me remember what it's like to have a crazy imagination), but I also take an active approach to staying inspired." When he was a student here, Ben was always showing us beautiful examples of photos and videos. It was obvious that he was learning from and emulating these qualities in his own work. That's where the dedication and passion comes in.
In looking back at his time at Bethany, Ben commented "the opportunities I was given as a student, whether it was in the gear I had access to or the projects I took on, were key to helping me grow as a creative. Trial and error as well as constructive input from my professors were also a huge part of what got me to where I am now." Because he works so close to campus, we have the continued pleasure of providing him with gear from the studio when he needs it for a Fun.com project.
What he remembers most from Bethany? "Staying up way too late working on Red Eye films, long insightful conversations with professors, media arts get togethers at Kurt's house, and soccer trips." And when asked what advice he has for current students, Ben answered "Whatever you're interested in, learn about it outside of class. You should always be staying up to date with current industry trends and learning new techniques. If you want to travel or study abroad, DO IT! Seriously, growing as a person is as important as growing as a professional."
And with those words of wisdom, we will leave you with the Fun.com's purple monster along with a list of the company's core values:
Find your passion.
Focus on the positive.
Build strong relationships.
Embrace nerdy, goofy fun.
Be humble.
Know the value of your time.
Change the world!
And hey, students…consider becoming one of Fun.com's thousands of seasonal employees. As long as you make it back up the hill in time for class!