Ruth Wels, a 2012 graduate, was active in fine art, video art, and animation as a Bethany student. Her love for stop motion and media led her to LA after graduation, where she worked at the WB and Stoopid Buddies Studios.Ruth is currently employed as a creative producer at Participant Media, the company that runs Pivot TV, where she works on various editing and design projects. This spot is one of her latest creations: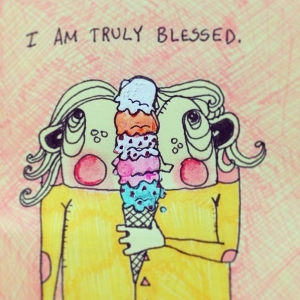 On the side, Ruth finds other creative outlets. Her experience with stop-motion animation was put to good use in a recent freelance project where she made a puppet for the animated short Bebop Fuzz. The short will premiere sometime this fall.
Ruth is also a prolific sketcher. She shares many of her drawings through Little Worthies, a series that features her whimsical characters drawn and colored on post-it notes. Each sketch is a short story, incorporating a prop or an outfit along with a short blip of text. You can follow Little Worthies on Instagram if you want to see them as they come out.
All of us at Bethany love seeing your work, Ruth. Keep it up!