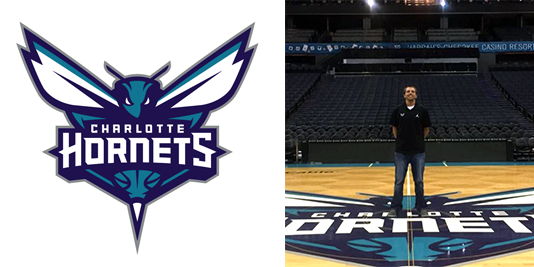 With the superbowl behind us, let's talk basketball. Senior Brett Olson is spending his spring semester as a full time video production intern in the marketing department for Hornets Sports and Entertainment. It's an awesome opportunity to begin his career in sports media. The group took 39 total interns this semester, but only one other video production intern.
"The great thing about this internship is that it's not the same routine, every day involves different tasks," said Brett. "So far I've worked on an assortment of projects, which have included shooting interviews, editing player highlights, and getting involved with the Special Olympics plus many other public relations events."
We're excited to see Brett working on projects for the video board at the Hornets stadium, as this is something the studio just started doing for the new Verizon Center scoreboard. Here are some frames from one of his projects: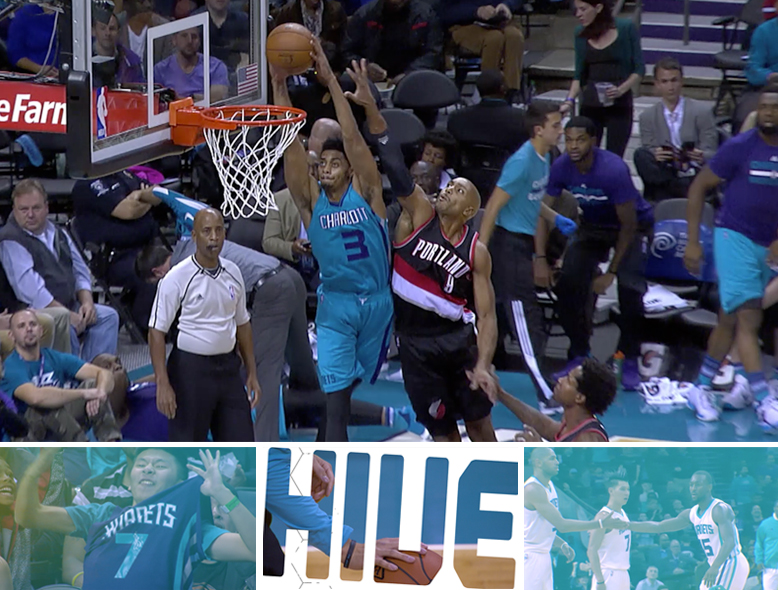 To work for the Hornets, Brett has had to adapt to life in Charlotte, which was something of a culture shock for him. He's already taunting us about the weather, preferring warm and sunny to the blizzards we've been experiencing here.
But the most eye-opening experience for Brett has, of course, been the result of his internship.
Being able to interact and network with professionals within an NBA franchise is exciting. I have had contact not only with the video broadcasting area, but also with every other department in the Charlotte Hornets organization.
– Brett Olson
These valuable connections make the challenges of a full time internship quite worth their while. Brett is expected to learn new things quickly and on the fly in a fast-paced work environment. Fortunately, the practical work he's done for BLC studios has prepared him for this.
I would not be in the position I am today without the experience I have gained while attending Bethany Lutheran College. Being involved with the Maverick Hockey broadcast and my BLC Athletics internship have helped prepare me immensely up to this point. Greg Vandermause has gone out of his way to provide other students and me with opportunities to thrive. Greg's real-world experience in the broadcasting industry has supplied me with the skills to succeed here in Charlotte. I feel very blessed to have the privilege of attending Bethany.
– Brett Olson
Good job Brett and Greg! For current students interested in similar opportunities, make sure to talk to your advisers about planning for and landing big internships. Don't procrastinate!