We heartily congratulate Brian Christiansen on being selected for an elite internship with ESPN! Brian was one of only six interns chosen from a pool of 18,000 applicants. It was a five month process from his initial application to the offer, with five phone interviews along the way.
"The application process was very intense, " commented Brian. "But I felt very prepared for all of the questions, which made it easier to respond under pressure. Honestly, I just want to get out there. I'm tired of talking about it, it's time to get to work."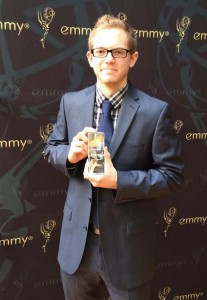 The internship will take place at ESPN headquarters in Bristol, Connecticut. Brian will begin work on September 15 and will continue until November 21.
"We are very excited to see that Brian will be spending his fall semester interning at ESPN," said studio manager Greg Vandermause. "As a former ESPN employee and having worked with interns in the past, I know they take the best students from around the nation. Brian certainly falls into that category and I have no doubt that he will do well. To be selected as one of the six out of 18,000 applicants says a lot about Brian's experience as a Bethany student. We look forward to seeing his progress throughout the semester."