Members of the Maverick Hockey broadcast crew are starting their broadcast season a little early this year. In the past, the broadcast crew has used an exhibition hockey game for their practice broadcast. This year, studio director Greg Vandermause wanted to get the crew together before they hit the hockey arena. This was achieved through several live soccer broadcasts, which allowed new crew members to train with the equipment and experience the rush of a live broadcast for the first time.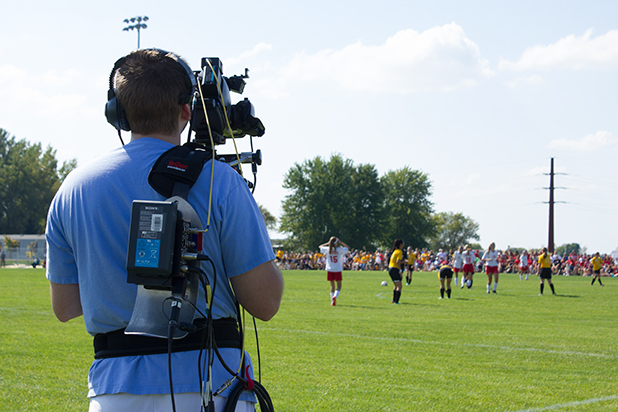 The crew put together broadcasts of 4 soccer games during the weekend of September 19-20. The following weekend they took their show on the road to live stream the Mankato East vs. West boys and girls varsity soccer games.
Live soccer broadcast gallery, click to view full size.
The soccer broadcasts were very well received by the local community. The enthusiastic reception was a great sign for everyone in the studio as we make our way into Public Access Television. "We had a crew of 15 students putting in a 12 hour day to make the East vs. West games happen," commented Greg. "The idea was to show the community that this is the type of work you can expect from BLC Studios moving forward."
On October 5, the broadcast crew practiced during an exhibition hockey game at the Verizon Wireless Center. And according to Greg, the extra practice definitely paid off. "The soccer broadcasts certainly paid dividends in our exhibition hockey game. It was evident that students were becoming comfortable with the equipment and workflow." The excitement is certainly palpable in the studio, where everyone is gearing up for another great year!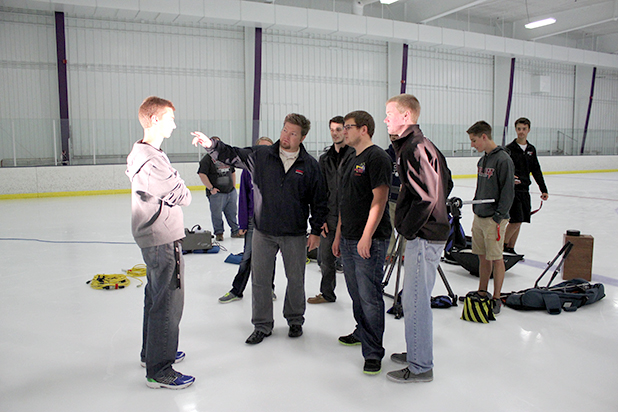 Hockey broadcast gallery, click to view full size.