We are incredibly proud to announce that our student-run Minnesota State Maverick hockey broadcast has been nominated for a Sports Video Group (SVG) and National Association of Collegiate Directors of Athletics (NACDA) College Sports Media Award in the category of "Outstanding Live Game Production." Other finalists in this category include Ball State University, University of Northern Arizona, University of Minnesota, University of North Dakota, and St. Cloud State University. It is a great honor to be nominated with schools of this size and caliber! Take a look at this clip from the Maverick hockey broadcast:
Our hockey production is unique in that it is entirely run by Bethany students—approximately 20 students are paid to work during each game. In 205-16, this included director Paul Riediger (senior), producer David Schuyler (junior), technical director Kenny Ramirez (sophomore), six operated camera positions, and several technical positions inside the broadcast truck. Sophomore Sarah Meilner ran Ross Video's Xpression Graphics machine, which is the industry standard, and junior Ryan Kastenschmidt managed the stats and data. Eric Westphal (freshman) and Hayes Schneider (junior) operated the replays, which is an important part of the broadcast (we have the ability to take in seven camera angles for replay using Newtek 3Play).
In terms of audio, the broadcast features six ice microphones placed around the rink to provide a quality listening experience mixed on a 48 input Prosonus audio board by student audio engineers. The engineer in charge (EIC) must juggle many job functions such as video shader, master control (playing back commercials and intermission content), routing feeds, and troubleshooting issues as they arise…all while making sure the broadcast is still on air.
Students also find opportunities in front of the camera. Two student reporters are responsible for player interviews, sponsorship readers, and hosting the pre-game and intermission shows. Additionally, the graphics, replay wipes, and motion elements are all created by Bethany students.
The production is supervised by executive producer and Bethany's production studio manager Greg Vandermause. Bethany just completed its 15th season of broadcasting Minnesota State Men's hockey. In addition to the men's games, students also produce women's hockey and Bethany operates the video board during men's games.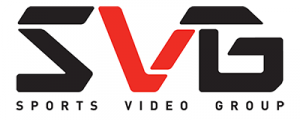 This is the second SVG/NACDA nomination for Bethany, the first coming in 2014. The winners will be announced at the Eighth-Annual College Sports Media Awards ceremony on June 3 at the SVG College Sports Summit held at the Omni Hotel at CNN Center in Atlanta. FOX Sports' Joel Klatt will host the event. While we're hoping for an award, it really is fantastic to be nominated. Congratulations to the many Bethany students who worked together on this top-notch broadcast!