After seeing the music video for Midnight on the Interstate produced by Bethany students in spring 2013, the management group for Minneapolis singer-songwriter Mason Jennings contacted professor Kurt Paulsen and asked if anyone would be interested in doing a music video for him. Seniors Stephanie Erlandson and Aaron Evans decided to take on the music video as a collaborative project for their media arts capstone.
The music video is for the song Lonely Street, from Mason Jenning's latest album, Always Been.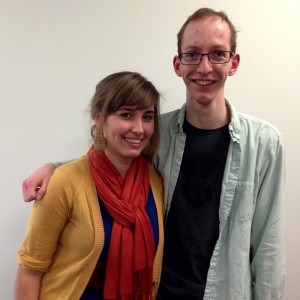 Stephanie and Aaron were eager to do another animation together and wanted to try working with replacement animation and paper cutouts. Replacement animation, also called puppetoon animation, is a type of stop motion animation where puppets are rigid and cannot move. This requires each puppet to have multiple copies with slight variations that can be swapped out or replaced in order to create motion.
"Paper was a medium we wanted to work with for a while and we knew that the handmade style of our paper would fit the musical style of Mason Jennings, and a 2D stop motion paper world would make the logistics of building and animating easier," said Aaron.
Animating multiple elements required the creation of a special animation stand. The stand was designed by Aaron and then built with the help of Pat Hull, Kurt Paulsen, and Eryk Wangsness. The custom built stand consists of four sheets of glass layered about eight inches apart. The top two layers are motor controlled and can be moved back and forth with software on the computer.
The music video features a squirrel on a journey through fantastic paper worlds in pursuit of a friend hedgehog.
"The fantastical worlds of Lonely Street offer viewers a chance to explore a wide variety of visually striking environments," says Stephanie. "Each world is unique and in many ways attempts to re-contextualize animals and plants that we would usually expect to be found elsewhere in different shapes and colors. We hoped to share with our audience the rich, textured experience that hand-made scenes provide."
"We looked at a lot of paper art online. We really enjoyed animations by Sean Pecknold, Yurri Norstein, and Jan Svankmajer and were inspired by their animation styles. Our goal was to maintain the hand-crafted feel of the Trampled music video, but be stylistically different," said Aaron.
The music video premieres online today at Paste Magazine.