On Sunday, July 17, we welcomed 15 high school students to the studio for Media Boot Camp. This residential camp was an adapted version of an event we tried for the first time last summer, and this year we were all very happy with the program! Here's a recap with some of the highlights.
We began the week with icebreaker games including the "name game," a paper airplane contest, paper tower building, and a photo scavenger hunt. When the ice was sufficiently broken and everyone was fed, we did our first media session—light painting with long exposure photography in Studios A and B. This was a super fun and experimental way to kick off the camp's creative sessions!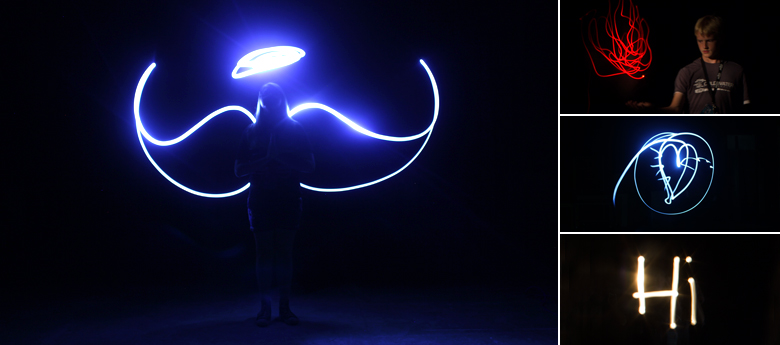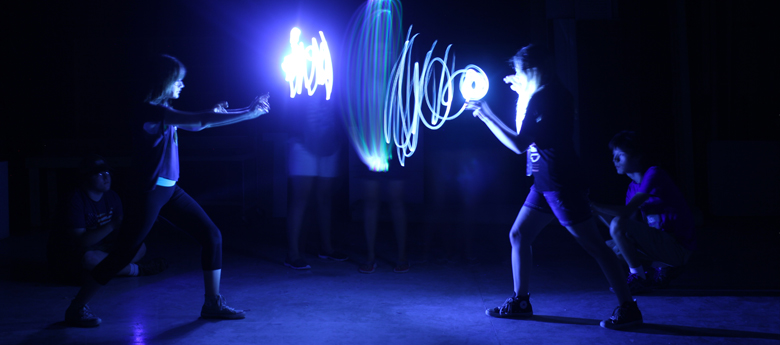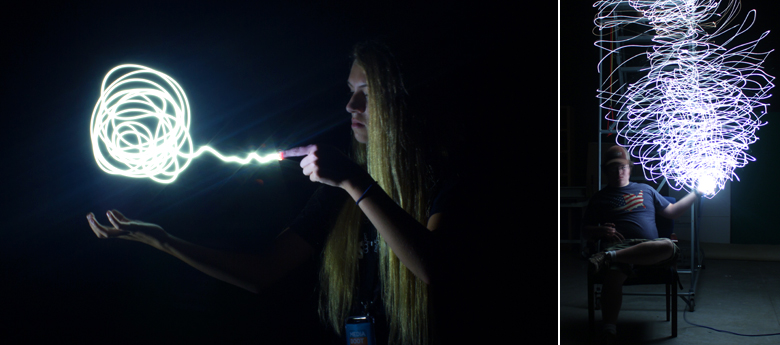 Monday was all about moviemaking. We started off with a morning session on screenwriting. Each camper wrote a 3-page script based on a randomly assigned creative prompt. Ever tried to write a scene from the perspective of a flower? One of our campers did. The photo below is from one of the script readings (the campers gave convincing performances). Mizha (left) smiles as her heartbreaking Dystopian scene comes to an end, with many of her fellow campers (and studio staffers) near tears.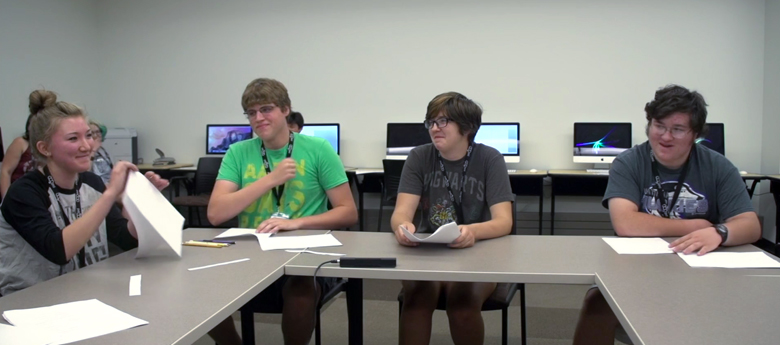 On Monday afternoon, campers were divided into small groups and began production on their short films. They wrote and produced these "Top 10" pieces of their own choosing:
Top 10 Things to Remember for the Zompocalypse
Top Top 10 Ways to get Fired
Top 10 Things to do Outside
We'll let you guess which one of these films included "Kill Your Friends." Hint: you'll probably get it wrong. They edited the films together Monday night.
Tuesday included a variety of sessions. Campers worked diligently to create stop motion animation titles for their short films. Another animation session demanded everyone's patience—campers worked together to reproduce 383 frames (about 25 frames each) in a hand-drawn rotoscoping animation. We used a video of three acrobatic campers as a base, and the animators were free to use any style they liked for their frames. The end result is awesome, take a look!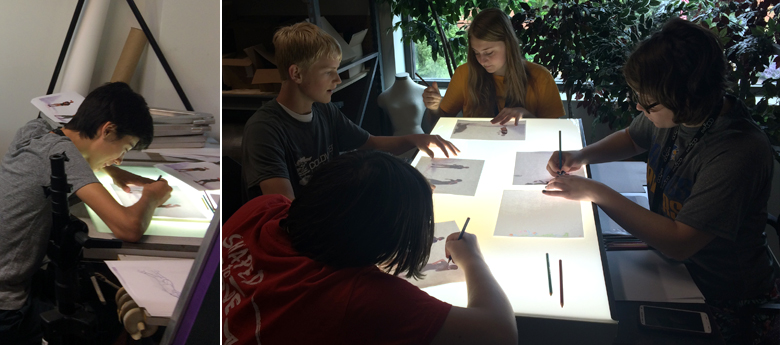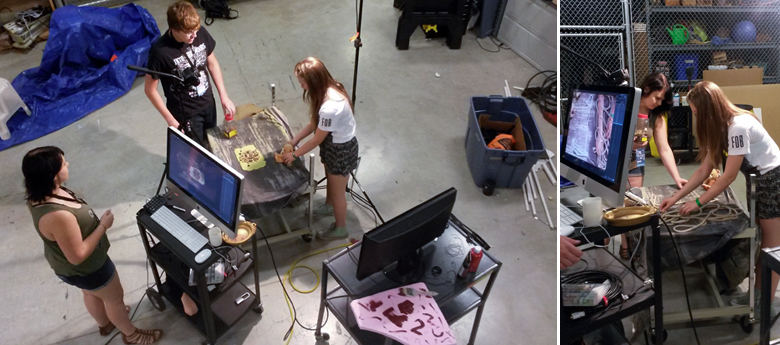 Tuesday also included a Photoshop session with guest professor Andy Overn—some of the doctored portraits were as scary as Monday's scripts.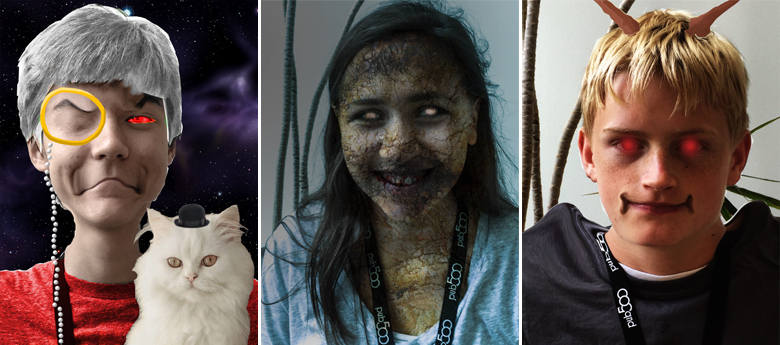 Everyone also got a chance to experiment with slow motion video (we used Sony's FS700 to shoot at a high frame rate). Here's a montage:
Wednesday was all about broadcasting. Campers took a field trip to KEYC in Mankato to get a tour of the studio and watch the team put together the daily news. Afterwards, the campers got some practice putting together their own broadcast. Anchors took to the news desk and read from teleprompter, they produced segments including the "joke of the day", and a few campers tried their hand at presenting the weather over a green screen. It was great preparation for assembling the final camp showcase.
Before taking another field trip to the movie theater, the campers tried their hand at the game "News Flash" from ABC's improv comedy show Whose Line is it Anyway? In this game, a "field reporter" stands in front of the green screen. Everyone in the room can see where the reporter is—except the reporter. Two anchors give clues until the reporter can guess where they are. This game was so much fun that most campers briefly forgot about the Pokémon they still needed to find.
Thursday morning BLC graduate Matt Wiechmann came by to introduce the campers to drone cinematography on the campus grounds. The footage was epic, here are a couple stills.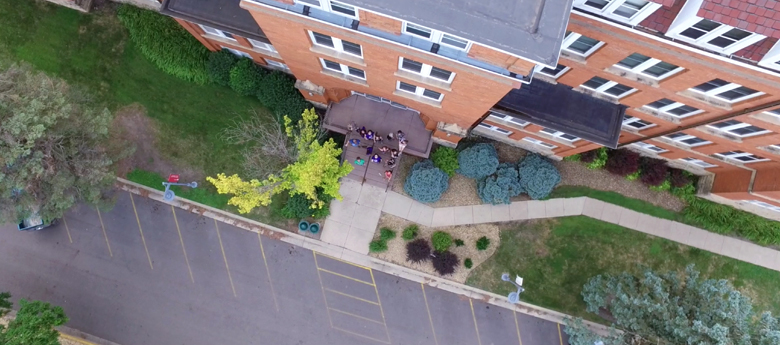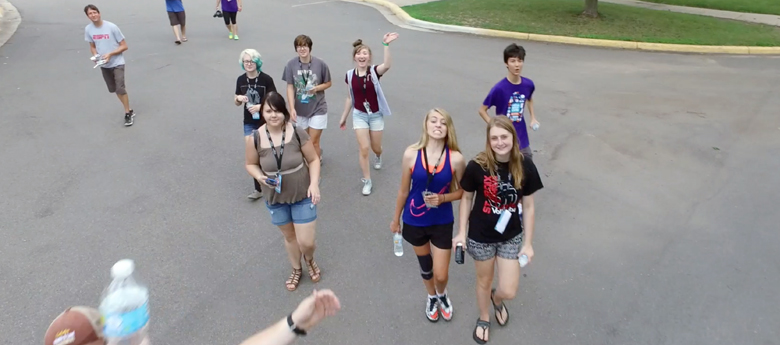 To sum it all up, we'll leave you with these two videos. The first is a quick montage of everything we did this week. The second is the final showcase (exhibited to family and friends on the last day of camp) complete with short films, animations, and more.
We're excited about the future of this camp! If you're interested in upcoming camps and would like to be emailed when we have news and announcements for these events, contact Amanda.