This past August the BLC Studios staff opened the doors to the new podcast studio, which is located in what was formerly the control room for Studio A. As you can see in the photograph below, the room has been optimized for quickly producing a quality podcast. This change was part of a larger studio remodel and was all about student engagement. "Creating content on a regular basis is important," comments studio manager Greg Vandermause. "Students benefit by performing interviews and becoming storytellers in a long form interview. We are encouraging everyone to find a niche and jump into that space." The podcast studio serves students in Greg's broadcasting class as well as a number of different campus organizations. Maverick Hockey Live is one of the more successful podcasts and is hosted by communication major Marissa Voss.
"The podcast room made starting the Inkwell podcast super simple and really fun! The sound quality is amazing and I'm so thankful we have this resource on campus!"
– Lyla LaMay, "Into the Well" (the podcast of Inkwell, Bethany's student-run literary magazine)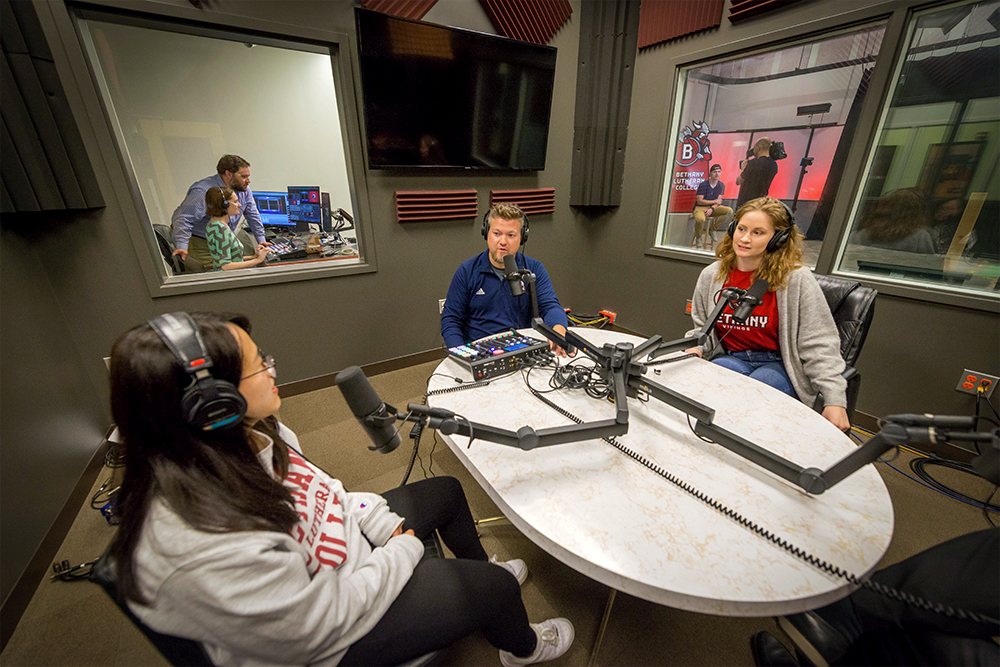 Photo by Dave Norris
There are also a number of BLC students and staff members who rent the space for personal projects. The reservation calendar is full of bookings for podcasts reviewing bad books, sleepy cinema, and a number of other odd topics. Stay tuned for a master list of BLC community podcasts, which we'll generate after giving these projects a bit more time to cook. If you're interested in reserving this space, contact Seth Grabow.