We had a full theater and a great night at the movies for Red Eye 2022! While Red Eye has always been a high-energy event, this year we dressed it up with some things you may remember from the international Speechless Film Festival—food, photos, and ambiance!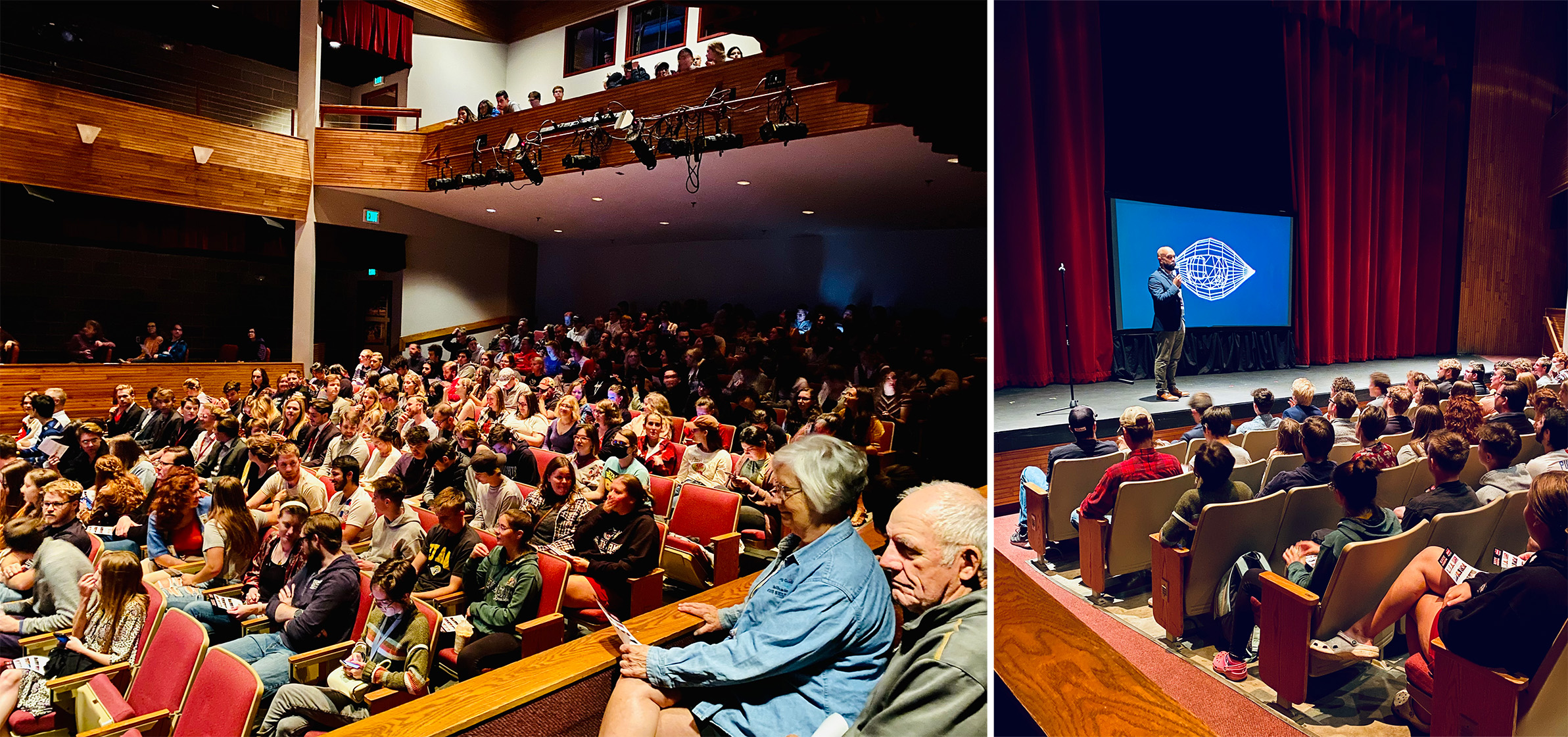 It was Prof. Ben Lundsten's first year as emcee (above) and Alex Gutzke's first year as technician (unpictured…sorry Gutzke!). Before pressing play, Ben revealed the source of the 9 titles the students were given as prompts—translated hit song titles from various countries in the 1960s.


Here are some stills of the lobby (above) from a reel Greg posted on our Instagram. The stage was set with red lights, red carpet, high tops, and a gallery show featuring Ben's street photography (come to his gallery talk this Thursday at 7p!).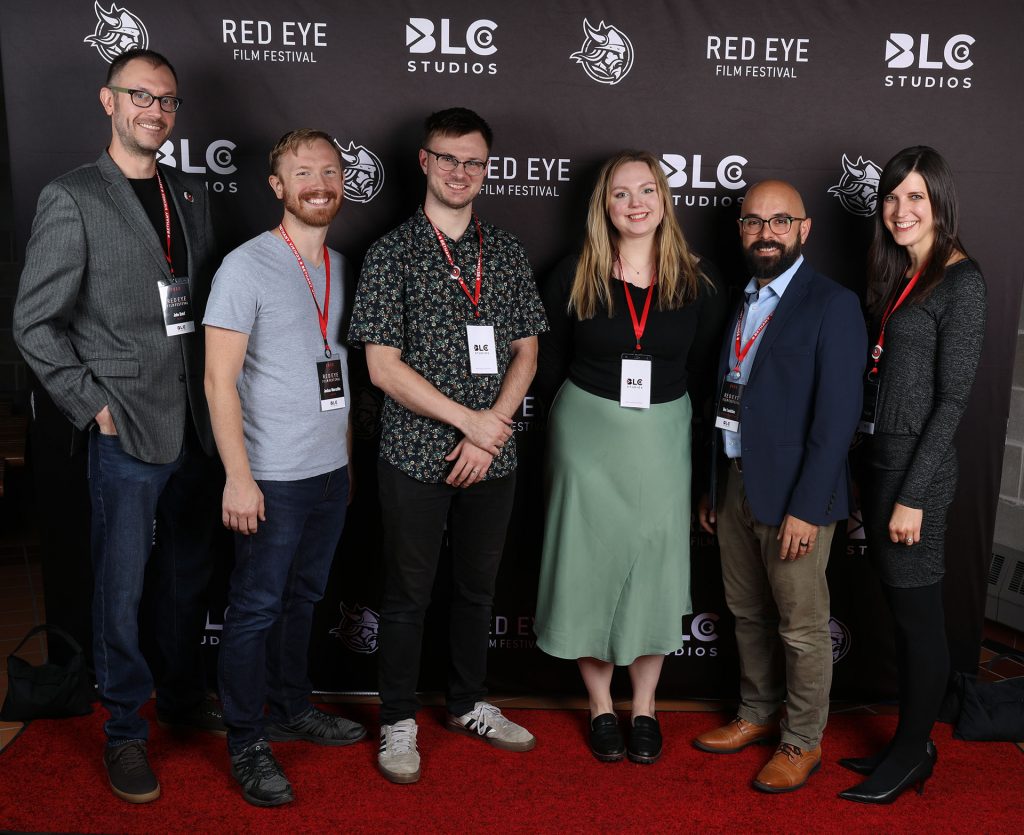 Ben and Amanda with the Red Eye judging panel of alumni and friends: John Quist, Josh Wierschke, Michael Bless, and Rea Kuske. Marcus Taplin also judged remotely.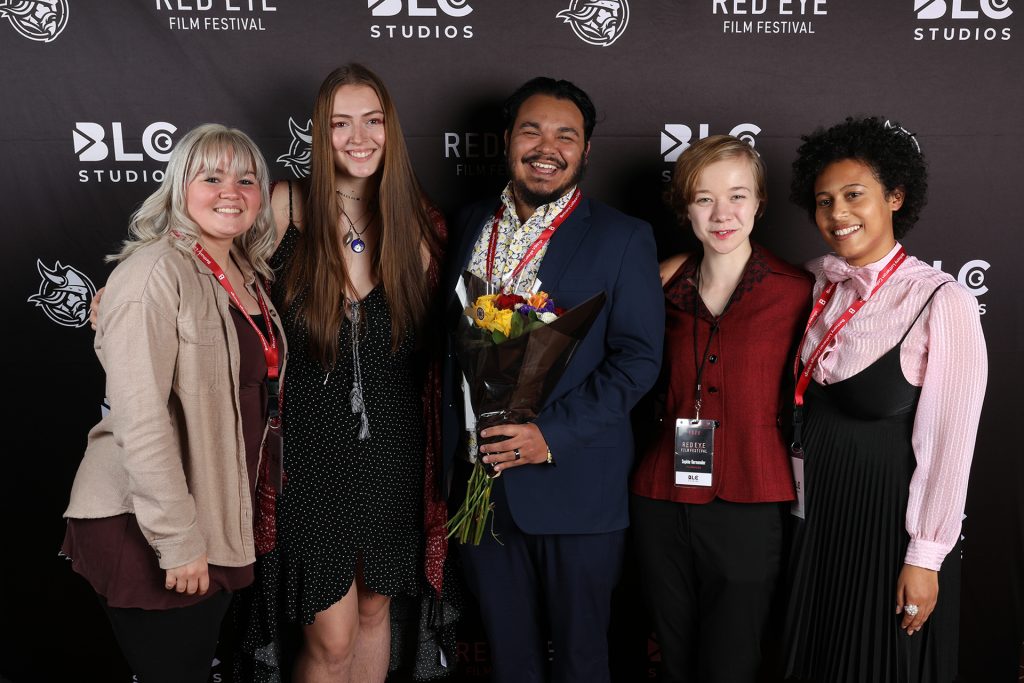 One of the student teams which happens to include BLC registrar Sergio Salgado, who is auditing a screenwriting course and performing for the camera!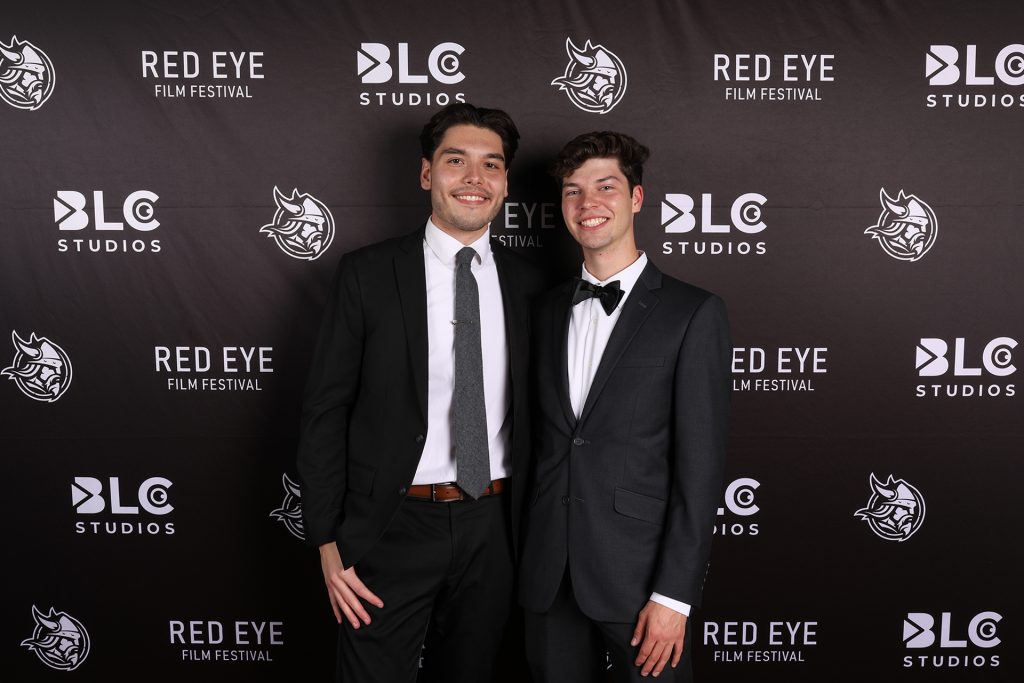 Two well-dressed and award-winning seniors with our new backdrop. Many more photos will be posted to our facebook page soon—that's where you'll be able to find everything from Denice's camera.
Okay, about those awards! It was an impressive year overall—the judging panel was very impressed with a number of the films, which were generally less comedic than we've seen in recent years. After careful deliberation the judges gave five awards which, along with the audience favorite, are as follows: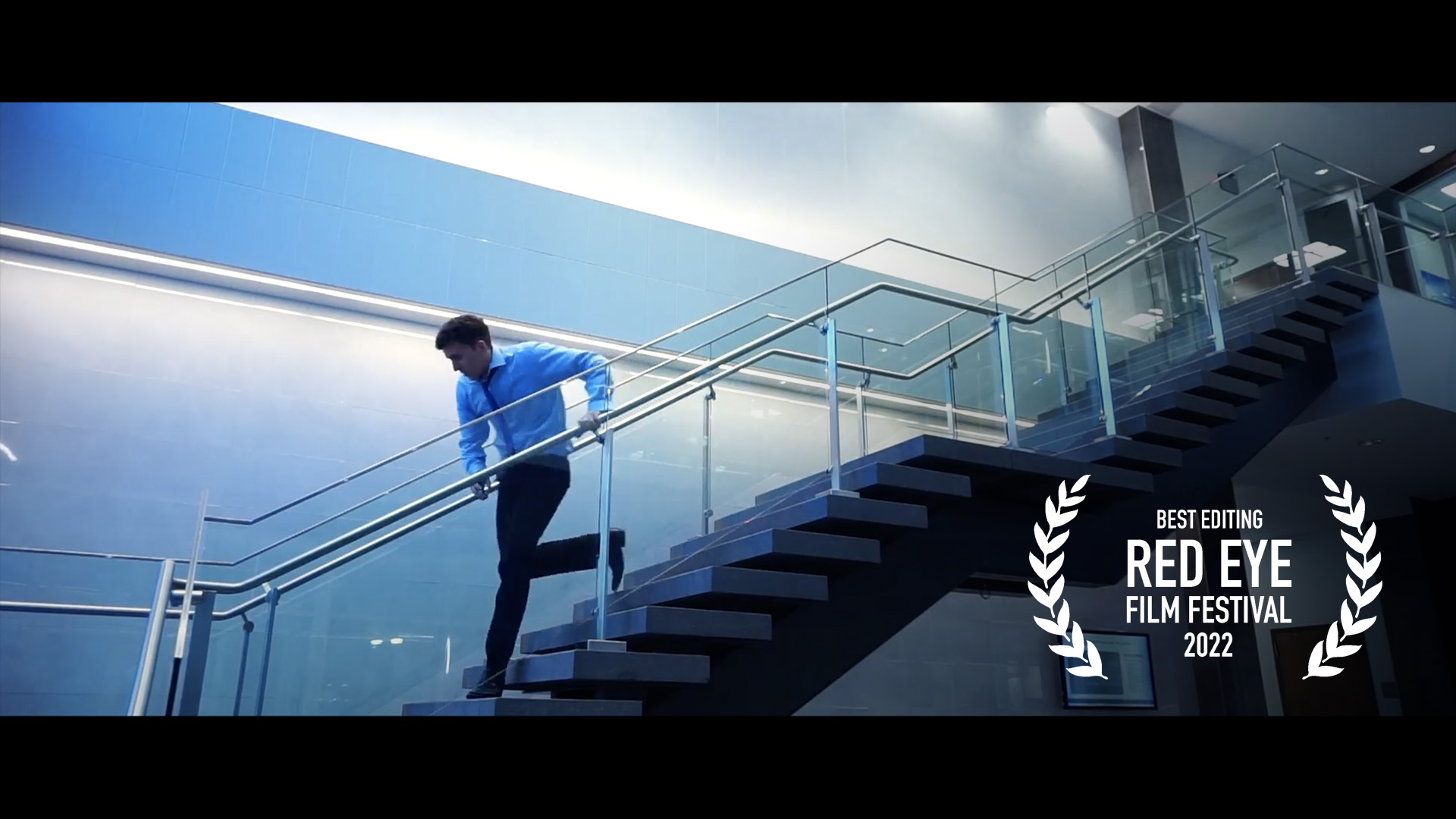 Best Editing, I Would Change My Mind
Daniel Norris, Nate Dunkel, Luke Haines, Griffin Neeb
This predominantly freshmen team tackled addiction…the editing contributed to its intense pacing and a harrowing conclusion.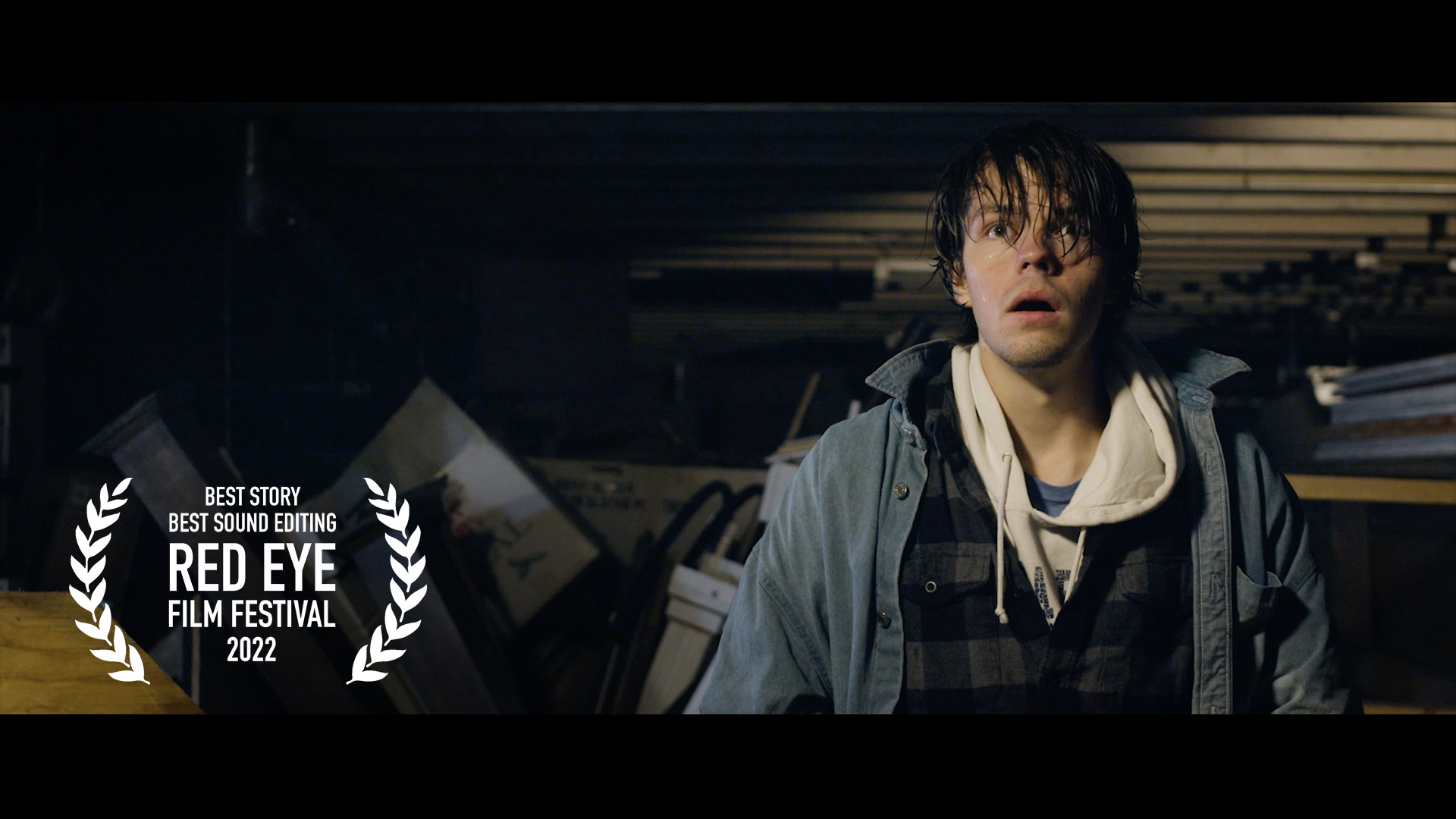 Best Story, Best Sound Editing: The Man in the Yellow Shirt
Joey Pasbrig, Colin Neville, Noah Rittierodt, Jacob Norris, Marcos Borobia Arias
This team, consisting mostly of juniors, wowed the judges with an original story and immersive soundscape.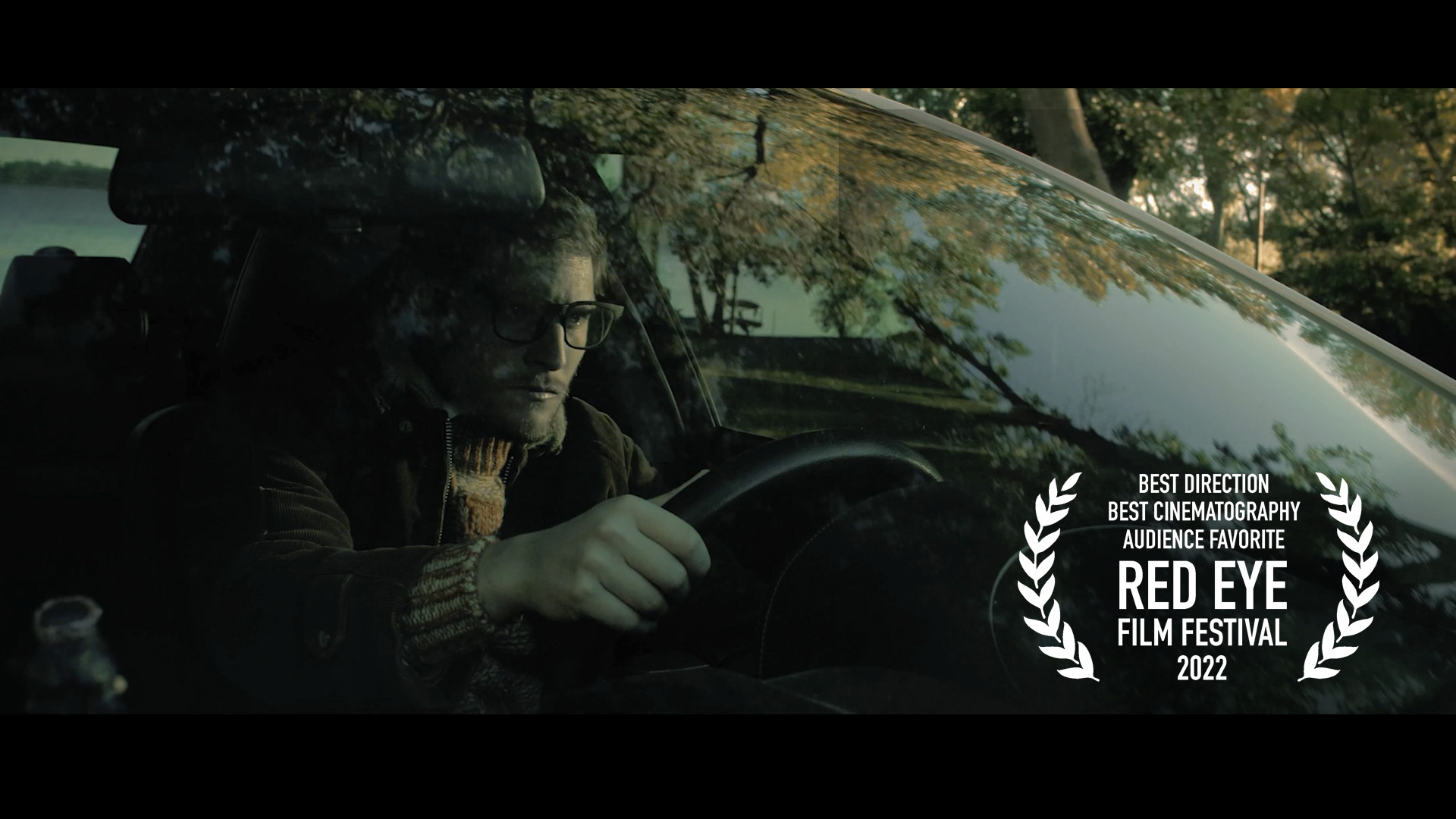 Best Cinematography, Best Direction, and Audience Favorite: The Last Letter
Alec Mueller, Franklin Selvey, Mizha Overn, Ben Stelter, Kim Dorantes Caballero, Jamie Smith, Alec Lade
This team created a beautifully cinematic and highly cohesive short that awed both the judging panel and audience alike.
We want to give a huge thank you to all the students who participated, to the audience for showing up to support student film, and to all the faculty, staff, and students who helped with the venue and set-up (including everyone in the YFAC for sharing the theatre!). We had a wonderful time and are already excited for next year!