Last week marked the 9th Annual Red Eye Film Festival for Bethany Lutheran College and BLC Studios. This year was particularly exciting, as Bethany students were joined by teams from the film programs at Minnesota State University-Mankato and South Central College. A total of 88 students in 16 teams participated, easily making this the largest Red Eye Film Festival to date.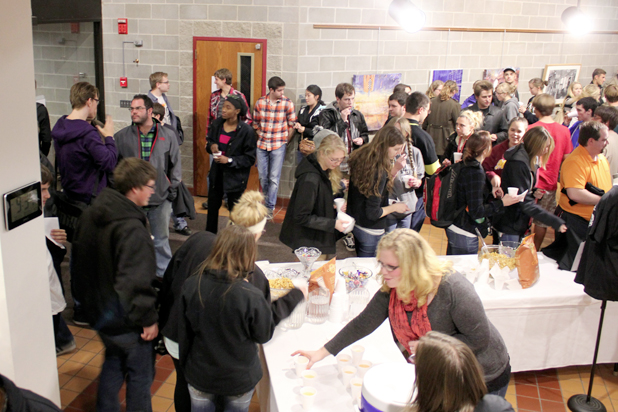 Each team was given a different genre, prop, and line of dialogue to prompt their films. In previous years, teams had only 48 hours to write, film, and edit their movies. To facilitate the large number of students involved, teams were given just under a week to work this year.
Another new addition to festival was the inclusion of Benjamin Inniger's Film Scoring class. Each team was paired with a composer from the class, and many created original soundtracks.
The films were judged by a small panel and recognized for excelling in script writing, cinematography, editing, and art direction. The audience was also polled for a Festival Favorite. The following films were recognized:
Best Script
Unravelled by Apple & Cookies Studios, BLC
Genre: Drama

Best Editing
Hire to Fire by Fantasix, MSU
Genre: Western

Best Cinematography
His & Hers by SCC Team 1, SCC
Genre: Crime
.
.
.

Best Art Direction (tie)
Mousequerade by Redd eYe, BLC
Genre: Horror
&
Letting Go by Majestic Black Squirrels, SCC
Genre: Adventure

Festival Favorite Runner Up
Unravelled by Apple & Cookies Studios, BLC
Genre: Drama

Festival Favorite
Mousequerade by Redd eYe, BLC
Genre: Horror
Nearly 250 people attended the Red Eye Showcase at 7:00 p.m. on Monday, November 3, in the Ylvisaker Fine Arts Theater. It was a lively crowd of students and cinema lovers from Bethany, MSU, SCC, and the Mankato area.
We are happy to say that the 2014 Red Eye Film Festival was filled to capacity in both the number of students participating and the number of people who attended the showcase. We're hoping for another full house next year, and in the mean time, mark your calendars for Speechless Film Festival—coming up this March 20-21, 2015.