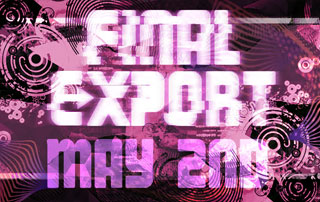 It was hard to miss the posters for the media arts senior showcase…partly because designer Joe Kinstler used more magenta than has ever been used on our campus before. And partly because Joe broke a lot of campus rules regarding poster placement. When everyone finally filed into the film viewing room Tuesday night, there was a strong sense of anticipation. Every MART showcase is so different, so nobody really knew what to expect.
Starting at 7 p.m., each of the seniors gave a talk about their project. David Schuyler began—he gave the crowd the who-what-when-where-why about his show Inside the WCHA. This is a new web series that David launched for the Western Collegiate Hockey Association (WCHA). Max Grabow took the stage to talk about ENO, his post-apocalyptic virtual reality film, and show the trailer. Finally, Joseph Kinstler discussed the development of his concept art portfolio and the steps he is taking towards breaking into the industry.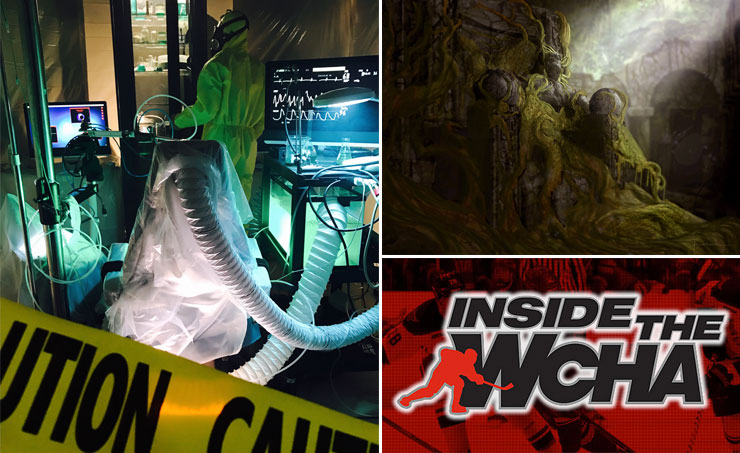 But the real fun came afterwards. The audience moved from the film viewing room to the bright and spacious hallways of Honsey's lower level, which housed a makeshift gallery. The experience began in front of large monitors screening some of David's episodes in addition to a binder of his planning documents. Next, Joe exhibited several framed pieces of artwork along with some animations that revealed how the layers come together. Finally, attendees waited in line for their turn at one of six virtual reality stations, where they grabbed a headset and enjoyed the 360° experience of watching ENO—which is about 5 minutes long and renders the viewer a test subject of sorts in an ominous science lab complete with hazmat suits and brainwashing media (the film within a film). The final stop was the studio set for Max's film, where three lucky attendees were randomly chosen to receive the full sensory experience of the story—complete with fog, smells, and compressed air bursts.
Perhaps the only connection between these three projects is that they were all a first for MART capstones. We've never seen a full web series, a VR film, or a portfolio of cinematic concept art produced by previous seniors. We give our students the freedom to pursue whatever they're excited about, and this year's show reflects their interest in originality and emerging media. Great job, guys! The show was well attended and the feedback was great!
• See more of Joe's portfolio
• Watch episodes of Inside the WCHA
• Watch Project ENO online