"The Speechless Film Festival is one of my favorite events of the year. I'm proud of everyone who made it happen, and of all the people who kept smiling through that insane blizzard. I am also SUPER thankful for all of the awesome filmmakers present—a good portion of them flew out from sunny L.A. but handled the weather like true Minnesotans!"
– Adrian Whitney, BLC alumna + festival volunteer
The international Speechless Film Festival turned six this spring, and while there were a number of firsts that set this year apart we've found that the blizzard surpasses them all.
That's right…during our event scheduled in mid-April we received 15 ridiculous inches of snow. The storm began Saturday morning, and conditions were so bad that most of the town was closed, plows were taken off the roads, and people were urged not to travel. We were prepared to screen movies for only the festival staff, but we were pleasantly surprised with a wonderful group of cinema lovers who braved the elements to attend our morning filmmaker panel, screenings, and presentation of awards. All attendees shared a strong sense of daring and a heavy dusting of snow.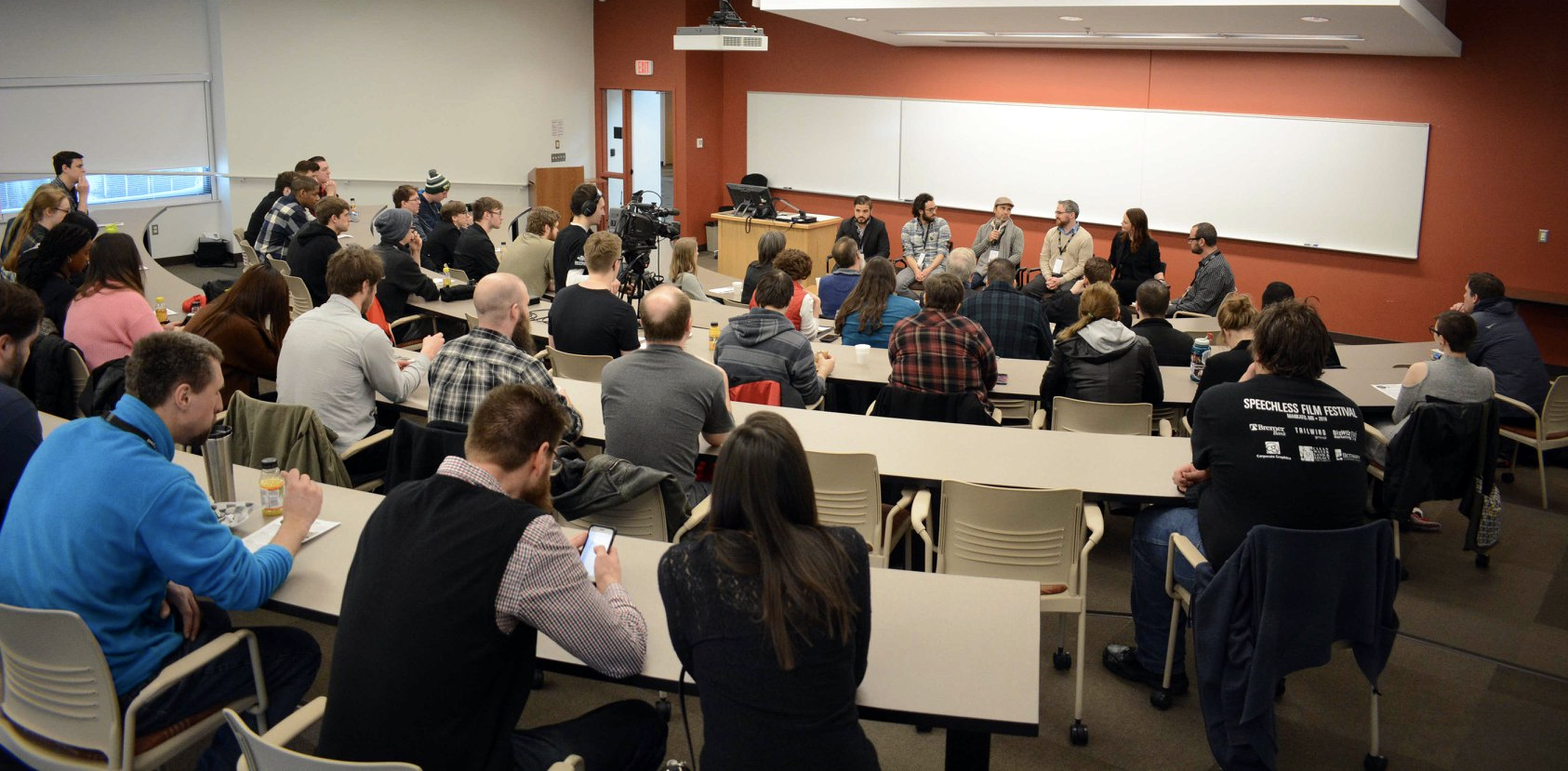 This year we were excited to host 17 directors and crew members in addition to the dozen or so local student filmmakers and animators in attendance. Directors Vahan Bedelian, Luciano Blotta, Jennifer Boles, Jacob Padilla, and Jesse R. Tendler participated in a panel moderated by media week speaker Jeff Boortz, a veteran creative director and filmmaker with 25 years of experience building brands in the entertainment industry. The panel included new and seasoned filmmakers, some with impressive credits such as The Fast and the Furious film series, Grand Theft Auto IV, and UFC countdown.
There was a great energy leading up to the festival this year because several Bethany students were involved creatively. Capstone students Marcus Ruiz and Michaela Schultz worked with profs Kurt Paulsen and Amanda Quist on the festival trailer and titles. Here's one of the festival trailers that Marcus Ruiz cut together, note the score was created just for us by Marcus's cousin!
Some other student highlights:
This year we hired thirteen student interns from Bethany (4), MSU (7), and SCC (2). The interns introduced the showcases and assisted with various event planning tasks. They were a huge help and a pleasure to have on the team!
Nine Bethany motion graphics students worked together to create a short animation that screened in the Music & Movement showcase.
Two short films created at SCC were accepted and screened in the Made in Minnesota showcase.
A large group of students traveled in from Northwestern University to support festival panelist Jennifer Boles.
We'll leave you with these words from one of our festival interns, who describes this week better than we ever could. Take it away, Karee!
"Throughout Media Week and the film festival, there was a constant energetic hum of people doing and talking about what they love—a hum that built with each day, and that not even a blizzard could hush. I had the honor of serving as an intern throughout the festival, which allowed me to watch the Romance showcase numerous times. Each time I saw the films, I was mesmerized by the craftsmanship and intricacy. The week closed and left me encouraged and delighted by what God can do through people."
– Karee Henrich, a graphic design major + festival intern