Bethany students Ben Stelter and Franklin Selvey spent the last week with the Minnesota State hockey team in Albany, New York, shooting video and making clips for their appearance in the NCAA national hockey tournament. Franklin and Ben spent most of their days with the team shooting behind the scenes content. Organizing and labeling footage is extremely important at an event like this.
"Together, Ben and I shot about 600 gigabytes of video," commented Franklin. "Traveling with the team and documenting the big moments was a ton of fun. Since we could lose at any time, it's important to get out content as soon as we can in case the season ends. We won both games last weekend which was great for content, with one of our videos for the Saturday game getting over 14k views on Twitter." Here's a hype video created for Saturday's game against Notre Dame, which was shot by Ben & Franklin and edited by Alec Mueller back at Bethany:
Some of Ben and Franklin's footage was used by ESPN. Producer Tony DeSanti was extremely grateful for the clips BLC Studios provided of Maverick players to enhance the broadcast. Here's a couple photos of Franklin and Ben outside and inside the ESPN production truck.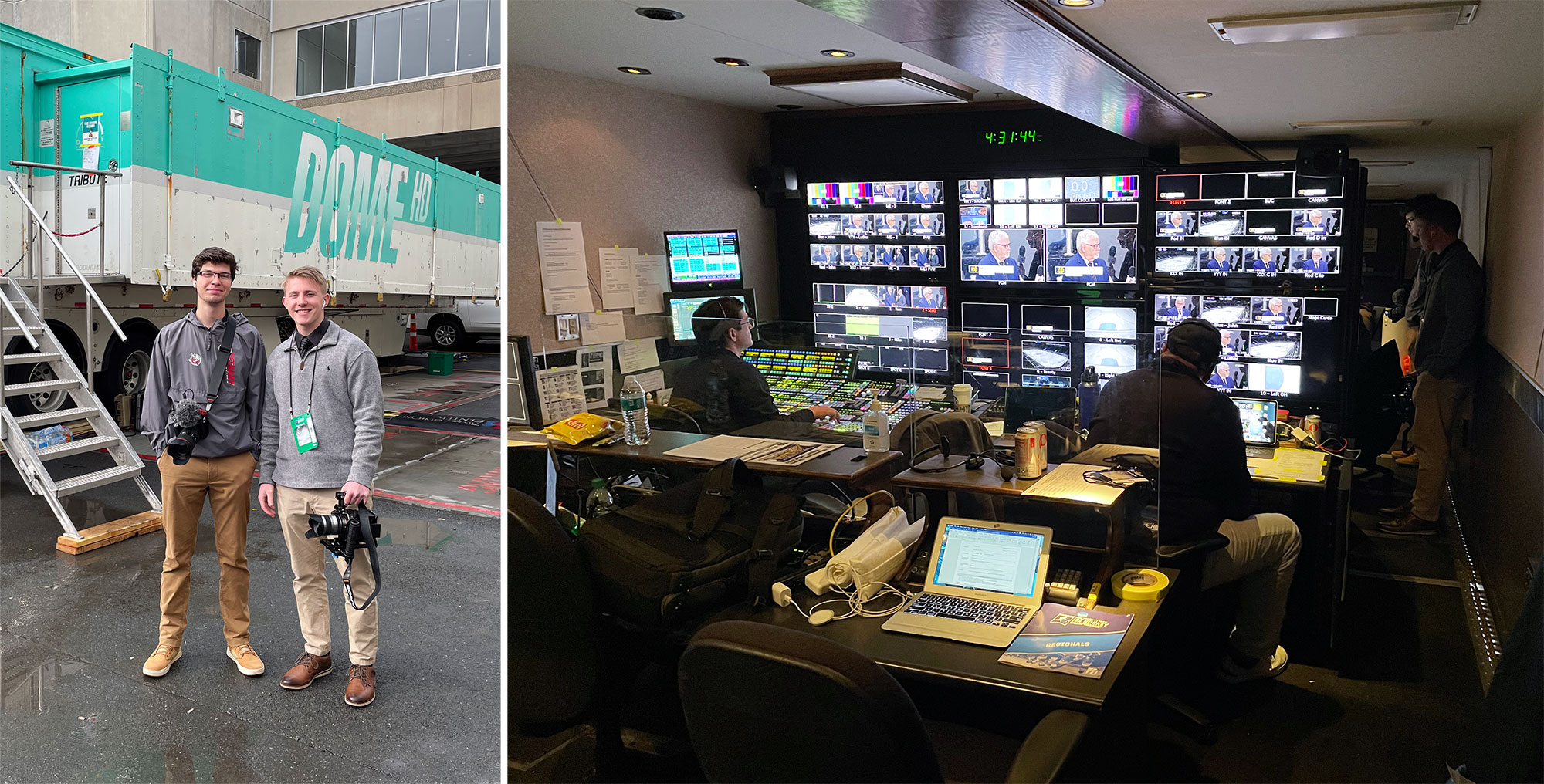 Both students had an awesome time traveling with the team. "We filmed the games, sat in on press conferences, interviewed players in the hotel, and so much more. In our free time we were editing and organizing clips. It was a busy week with not much sleep," said Ben. "I can't wait for the fanbase to see the footage we shot during this tournament."
"Franklin and Ben did an outstanding job representing our program and Bethany on this trip. Our relationship with Minnesota State hockey is strong and it is a result of the great work by so many past and present students like Ben and Franklin. It is an honor for us to document this historical hockey team as they are on the brink of a National Championship."
– Greg Vandermause, Studio Manager
Minnesota State defeated Notre Dame 1-0 and is advancing to the Frozen Four in Boston, Massachusetts, on April 7. Greg and Franklin will be traveling with the team once again, bringing with them 2019 BLC graduate Jonny Sehloff. We'll leave you with this footage of the final moments as the Mavericks advance to the Frozen Four: