It's hard for any student to graduate from our media arts program without doing at least some client work on-location at Drive-A-Tank. The head of this business, Tony Burglum, is a friend and supporter of the program, and we work with him pretty often. So it was fairly unremarkable this past fall when professor Kurt Paulsen was searching for a few students to work as shooters on a Drive-A-Tank project, where "a reporter" would be visiting the facility with her family.
"We were totally surprised when we got to Kasota with the gear that morning and found out the reporter was with Time Inc.," commented senior Josh Kloster, one of three students recruited for the job. They had no idea the final product would be released online with Fortune magazine. "It was crazy! But we settled into our roles and got the job done."
Josh was joined by senior Ashley Stahl and junior Megan Tonn to work with reporter Sue Callaway, senior editor for automotive at Time Inc. These students were the camera crew, and when the day's shoot was done they sent off to New York where it was cut into a video that accompanies Sue's article for Fortune.com. Take a look at the video and article.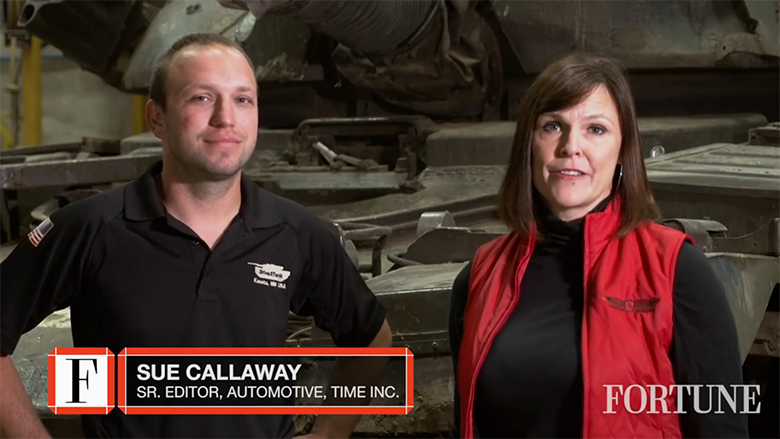 "It was a really cool learning experience to see what the professional team did with our footage. They did things with the cut and audio design I never would have thought of," commented Ashley Stahl.
This practical, real-world experience is certainly noteworthy by itself—but we were even more proud to get this great response from Sue Callaway:
"I have worked for decades shooting complex video of on-location news, lifestyle and automotive segments. I have worked with CNN crews who have covered the frontlines in Iraq, international crews in Europe who don't speak English and tons of U.S. Freelancers. In all honesty, I have rarely worked with a more talented, easy-to-coordinate-with and quick-moving team. All three seamlessly worked together, covered multiple angles and thought through shots before I did, making my producing role unnecessary. I would hire them again in an instant if they'd move to LA."
Sue Callaway
Senior Editor, Automotive
Time Inc.
We couldn't be more proud of Josh, Ashley, and Megan for representing our program well and killing it on this shoot! This isn't the first time our students have impressed in a professional setting, and we know it won't be the last. Great job, guys!