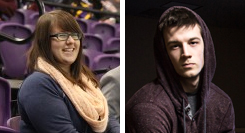 Each year the Broadcast Education Association (BEA) hosts a Festival of Media Arts, which is a competitive festival for faculty and student BEA members. There are 15 categories of competition, ranging from radio to documentary and interactive media to sports broadcasting. Megan Maschoff and Jeremiah Kuehne received the second place award in the Student TV Sports Story category this year with their Senior Spotlight for Minnesota State Maverick hockey player Zach Palmquist.
It was very humbling to be recognized among so many talented schools. Jeremiah is an excellent cinematographer which is what I think really helped tie the whole video together in the end. With Jeremiah taking care of the filming I was able to really focus on the story I wanted to tell when it was all said and done. It took a lot of late nights and a lot of teamwork but the experience I gained from it was priceless. – Megan Maschoff
Students from Northern Arizona University and Ball State University took first and third place, respectively. We are proud of our students who put in hard work and long hours to create such high quality content. Bethany has placed or been honored eight out of the past ten years at the festival.
The festival will take place in April during the National Association of Broadcasters (NAB) in Las Vegas, Nevada.