Bethany students stood out yet again at last week's annual Intercollegiate Film Festival, hosted by the Twin Cities Film Festival.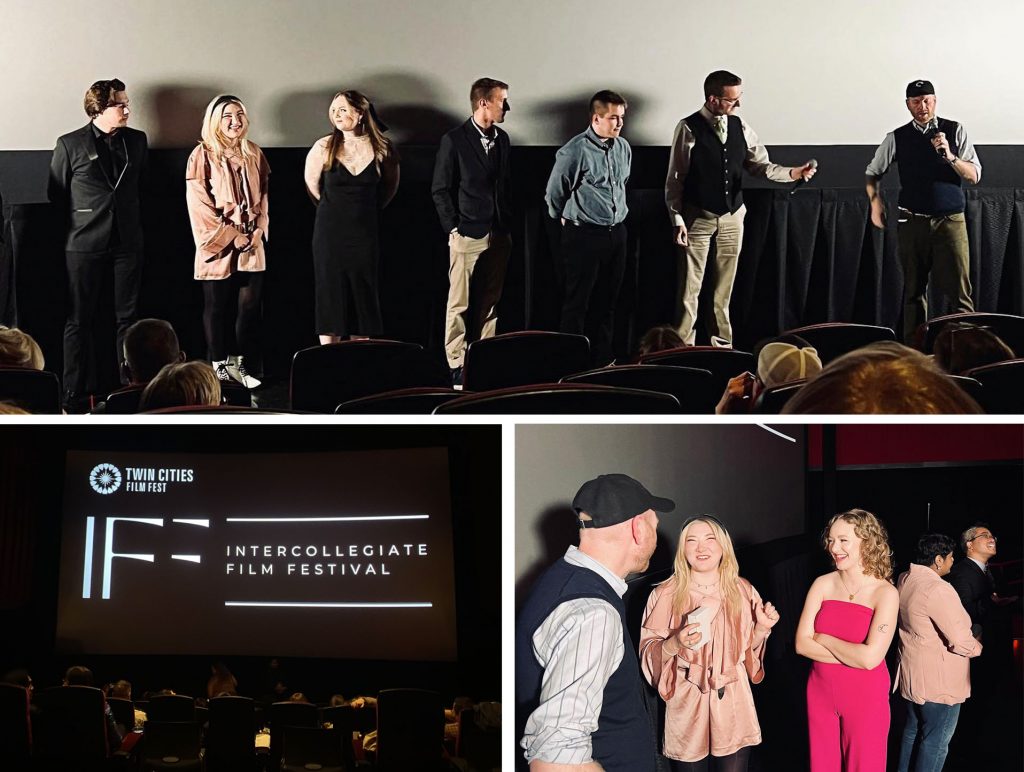 The Intercollegiate Film Festival took place on April 27th at the Showplace ICON Theatre in St. Louis Park, MN. This festival recognizes the work of MN student filmmakers, offering opportunities for networking and merit awards from a jury of industry professionals. Schools represented in the festival included Augsburg University, Bethany Lutheran College, Century College, Crown College, Gustavus Adolphus College, the Minneapolis College of Art and Design (MCAD), and the University of Minnesota.
After red carpet interviews (BLC's Rea Kuske, Joey Pasbrig, and Mizha Overn participated) and a meet & greet, an audience of roughly 150 people came together to screen the 15 short films accepted into the festival (four of these were from Bethany). Afterwards, there was a short Q&A with each filmmaker and the festival awards were announced. And just like last month's competition at the Upper Midwest Chapter of the National Academy of Television Arts and Sciences, Bethany students won every category in which they were entered.
It can legitimately be said that Bethany students have produced what are currently the best student films in Minnesota! Here's the list of Bethany awards from the night:
Best Animation:
Educaytion by Alec Lade
Best Narrative Fiction:
A Rush at the Beginning, directed by Rea Kuske
Best of Show:
Lulu, directed by Mizha Overn
For this award, Mizha won a Canon EOS R6 Mirrorless DSLR Camera!
People's Choice / Audience Favorite:
Lulu, directed by Mizha Overn
All student films accepted to the festival will also be included in the upcoming Twin Cities Film Festival October 19-28, 2023. So in addition to the films listed above, Man in the Yellow Shirt, which was directed by junior Joey Pasbrig, will also be screened at this event.
GIANT high-fives to all the BLC students involved in these truly excellent collaborative projects, and our thanks to all those at the Intercollegiate Film Festival for a great night! You can see more photos and watch the red carpet interviews on the Twin Cities Film Fest facebook page.