Hockey Day Minnesota came to Mankato for the first time on January 22, 2022. This week-long celebration of outdoor hockey was a once-in-a-lifetime event for the Mankato hockey community, and it was also a pretty big deal for the Bethany studio crew.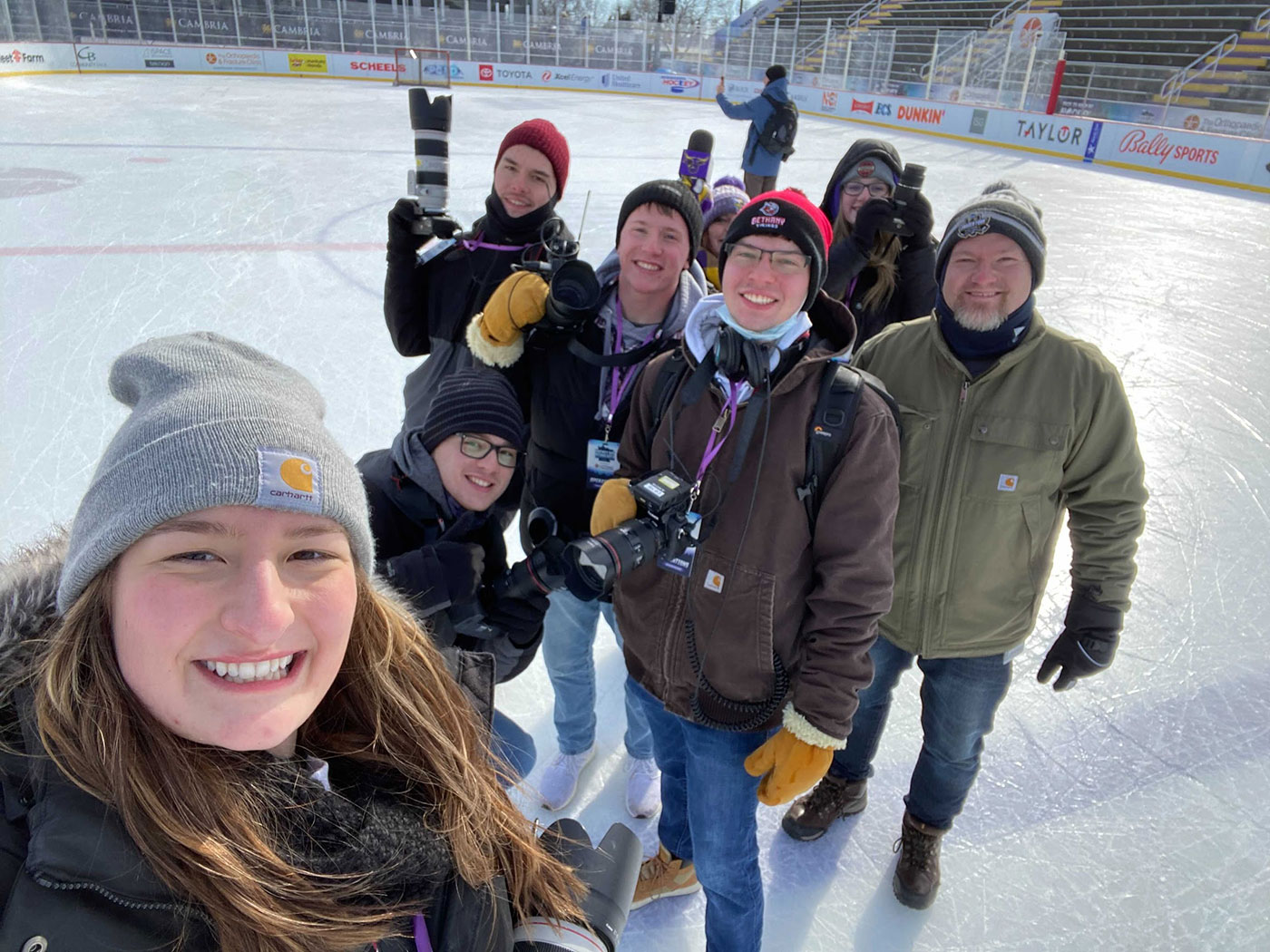 This was the 16th year for Hockey Day MN, which was created by Bally Sports North (formerly Fox Sports North) and the Minnesota Wild. The event moves around to different cities each year, includes hockey players and teams at many levels, and results in over 12 hours of televised content on Bally Sports. The games are produced with a higher production value than a typical game, including a live drone, 30′ JIB, skaters on the ice when a goal is scored, and live interviews with coaches during a game.
Mankato was the first host site in southern Minnesota, and we made our region proud. The site was Blakeslee Stadium (MSU Football) on MSU's campus. The site set-up was similar to the old days of Vikings training camp, including an entertainment village with live music each night, food alley, fire pits, heated VIP areas in the stadium, and a full-scale ice rink. The local organizing committee estimated it cost over $1 million to put on the event (covered by cash and in kind sponsorships and donors).
BLC Studios was brought into the discussions early on. We were hired to produce seven games, all of which aired on KTV Public Access, and three of which aired on the Bally Sports North App.
Our new control room allowed for most of this production to be done in Honsey Hall, limiting the exposure of students and staff to frigid January temperatures! Site work was limited to the placement of cameras, a network switch, and announcer gear. A key to making this happen was the partnership between Bethany IT, MSU IT, and the city of Mankato IT to connect two strands of fiber to MSU (in order for cameras, audio, and network connections to be made).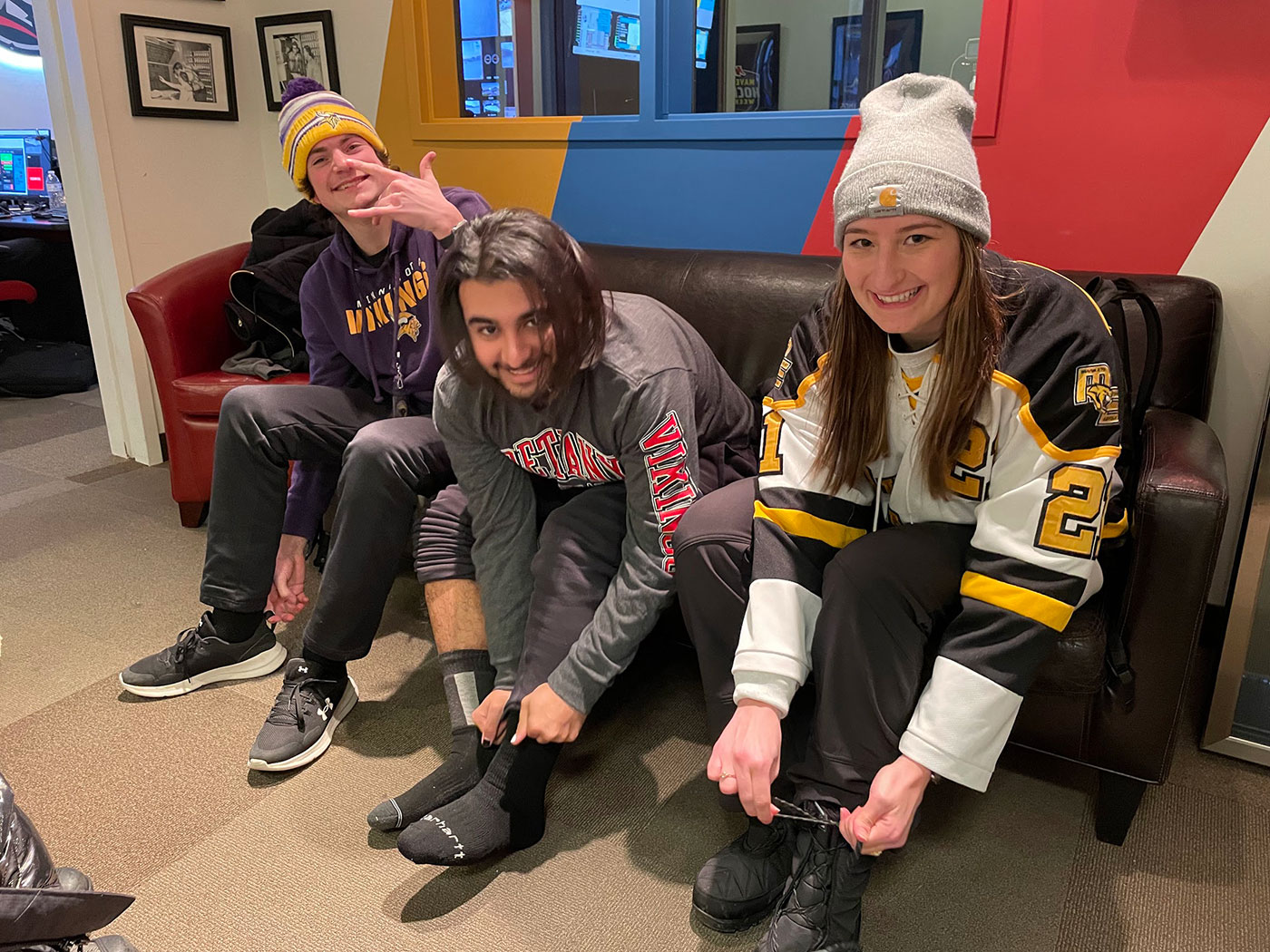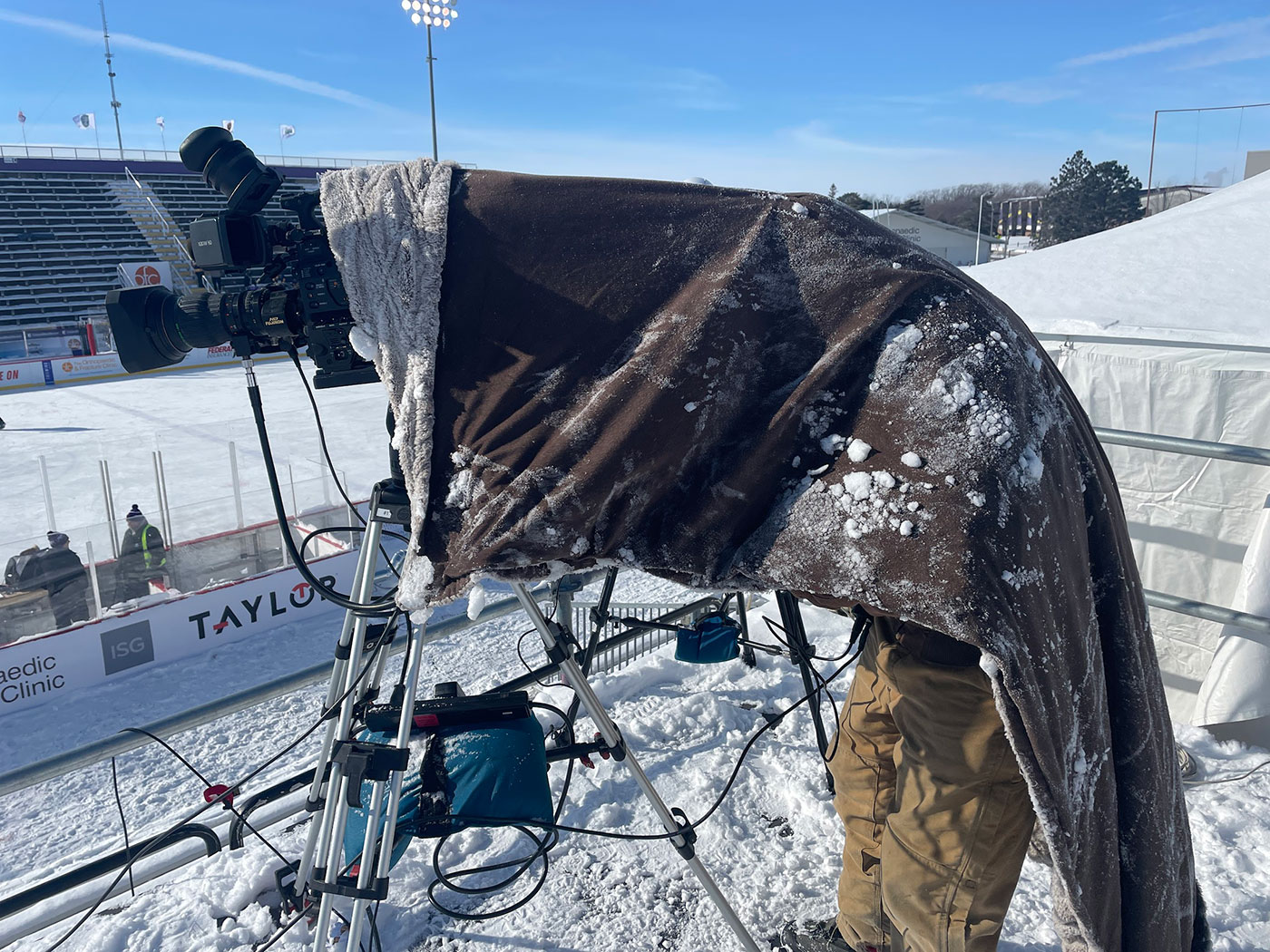 In addition to producing seven games, BLC students also ran the portable video board on site. The digital team that creates Maverick Hockey content on a weekly basis were also challenged. Students shot behind-the-scenes videos with the players and created hype videos and recaps (see below) as a way to showcase this amazing event.
Studio manager Greg Vandermause and his student team were instrumental in the success of Hockey Day Minnesota.
"The dedicated group of students who were there during adverse elements were nothing but professional and focused on bringing these games to the broader public. The social media presence they provide for Maverick Hockey will be forever memorialized as part of our Hockey Day Minnesota 2022."
– Dave Wittenberg (co-chair of the local organizing committee)
To see more, check out these AWESOME photos taken by Dave Norris (Bethany Lutheran College photographer).