Every project is a valuable learning experience for our students, including the recent production of a music video for New York-based rock band American Authors.
First, the video, then the story:
The music video for the song "Best Day of My Life" was a unique challenge for seniors Stephanie Erlandson and Aaron Evans (both of whom graduated from Bethany in December of 2013). This was the second music video they produced in their final semester, as they had already agreed to create a music video for singer-songwriter Mason Jennings.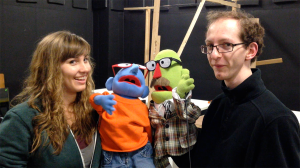 After brainstorming, Erlandson emailed the band with two concepts. One of the concepts revolved around a child building a blanket fort and bringing a parent into his imaginative world. The team was encouraged to move forward with this option.
American Authors liked the idea of having an imaginative or dreamlike world, but had just released a music video for "Best Day of My Life" where a man and his monster friend spend a day in New York City exploring the scenery, visiting bars, getting tattoos, etc. Thematically the video was dreamlike and surreal, yet the colors and environments were very drab and muted.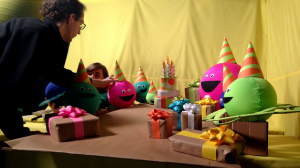 Evans and Erlandson opted to focus on imagination, rather than dreaming, in a bright and colorful world. Inspired by videos made using colorful paper and puppetry by artists such as Lucas Zanotto and the This Is It Collective, the capstone duo started inventing imaginative worlds for their muppet characters to explore. Elaborate sets with mirrors and chocolate fountains were slowly replaced with fabric. Paper pirate treasures, dragons, castles, easy-bake ovens in space, underwater eels, a birthday party, a rave party, and a zombie apocalypse started to take shape.
Most of the sets were built with cardboard and covered with paper. Any object that moved within a scene needed to be manually puppeted, so rigging for space-ships, electric eels, and teddy bears all needed to be devised and puppeteers were recruited to operate them. This project was truly collaborative as several students and professors stepped up to help with various aspects of the video.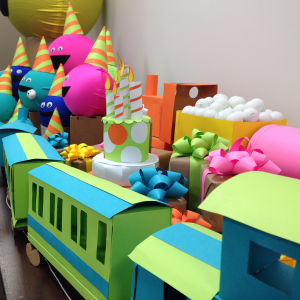 In a complex production such as this, each scene requires significant prep time. The team spent weeks creating the sets, filming each scenario as they went. Some scenes were scrapped, replaced, or redesigned due to limited time or technical complexity.
"The most enjoyable part is when you are actually shooting it, because then all the things you've been spending weeks building are finally coming together," said Evans at the capstone presentation night. "You can finally see that it's working. You worry a lot before then, but when you're there shooting it with people there is a lot of relief and you're like: this is why I'm doing this, this is going to work."
The live action sequences that bookend the video were the final pieces of the puzzle. Media arts professor Kurt Paulsen graciously volunteered his house and family for the production and a few days of filming completed the photography.
While the finished project may not be the official music video, Evans and Erlandson are proud of what they were able to create.
"It's always great to do something that you love while spending time with people that you love," said Erlandson. "And I think that was probably my favorite part of the music video."