This summer, Bethany theatre professor Benji Inniger collaborated with several media arts graduates to create the short film Rise for the MNKINO Film Score Festival. This festival features short films with original scores performed live by an orchestra at the MNKINO showcase, which took place at the Science Museum of MN on Thursday evening, July 28, 2016. Take a moment to enjoy this beautiful short film before we tell you more about it!
Though he teaches courses on many aspects of theatre production, Benji is an expert sound designer, composer, and musician. He heard about MNKINO on the Composer Quest podcast. The fact that Benji was able to work with Bethany grads for the project was actually something of a special circumstance. MNKINO pairs filmmakers with composers at random, but the filmmaker Benji was assigned to work with was unresponsive to Benji's many attempts to contact him. Because Benji still wanted to be involved, he asked if he could assemble his own filmmaking team. When MNKINO gave him the go ahead, he recruited 2015 media arts graduate Olivia Lee, who he had worked with in the past. Olivia was excited about the project. "After you start working a full-time job, it's hard to keep creating for yourself," she commented. "This was a great kick in the pants."
Olivia recruited recent grad Jeremiah Kuehne (2016), her "go-to for Cinematography." This festival was a particularly good fit for Jeremiah, who works for a company that specializes in syncing live music with visuals (also founded by a BLC grad). She also brought in 2015 grad Leah Kurth. "Our main goal was to create something that would show off Benji's composition. He was the one who brought us together for this project so it was our way of thanking him," described Olivia.
Benji describes the creative process with this crew as "delightfully collaborative." The group met several times to brainstorm story ideas. MNKINO provided the theme "Legend" to prompt the groups, and Benji notes that initial ideas ranged from comic to tragic to nostalgic. Because the film needed to be short (less than 5 minutes), Benji aimed to craft a memorable, relatable story that evoked sympathetic emotions. "In my ignorance of filmmaking, my original ideas involved multiple actors, locations, etc. and the knowledge and experience of my crew helped shape it into something that could produce the biggest impact in the short timeframe we had," said Benji. "I've had the idea of a dancer with a dream and an obstacle rolling around in my brain for a long time, but thanks to the collaboration, we figured out the best way to build the dream and hide the obstacle with the available locations and resources."
Once the idea was chosen, Olivia wrote the screenplay, Jeremiah planned the shots, and Leah helped flesh out the story. From there, Benji brought in dancer Casey Morgan to perform in the film. South Central College student Dan Smith also helped during the shoot, which was completed in the course of one evening and the following morning. Locations included Wildwood Park, Bethany Lutheran College, and the Mankato Ballet Company. Here are a couple stills from this stage of production.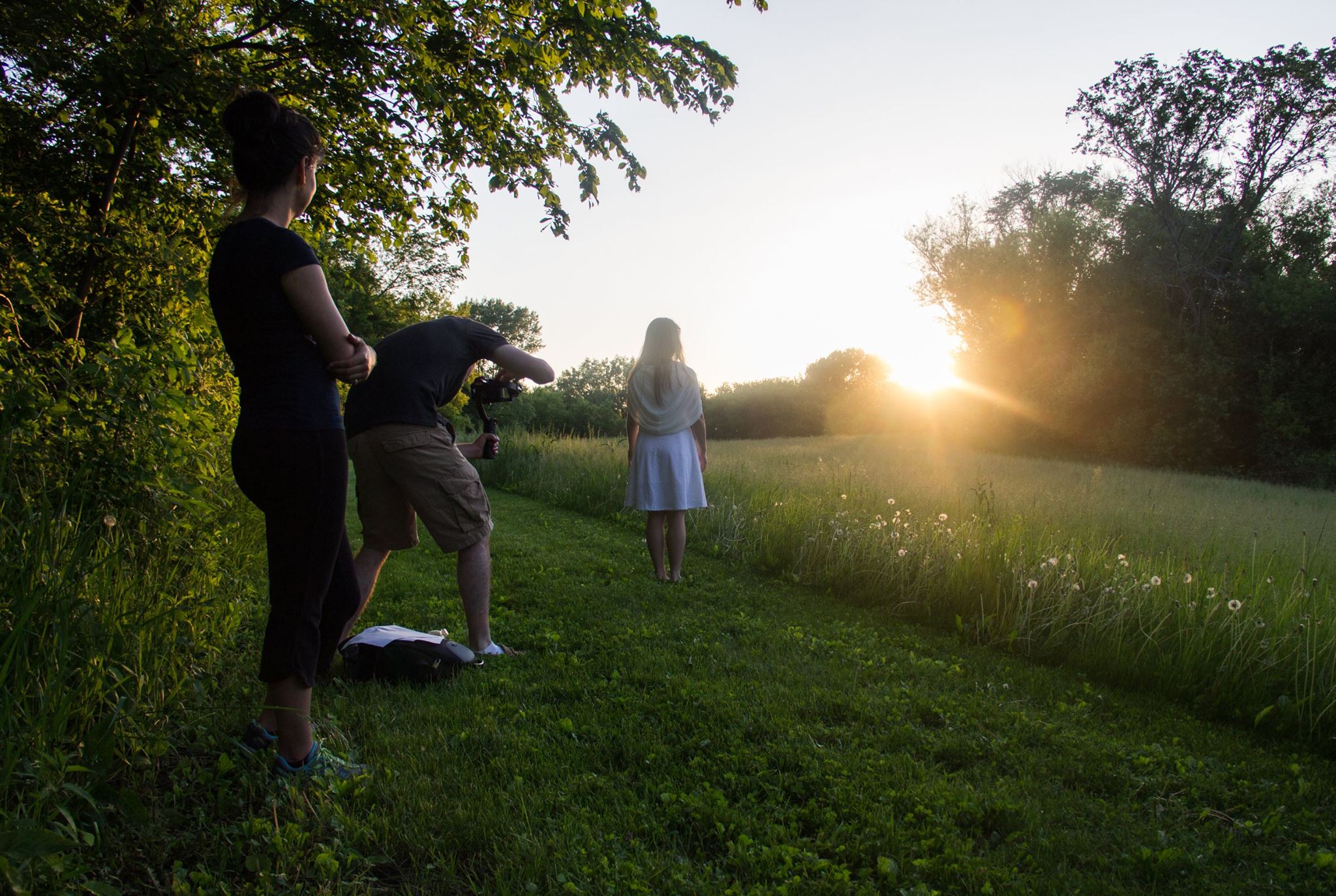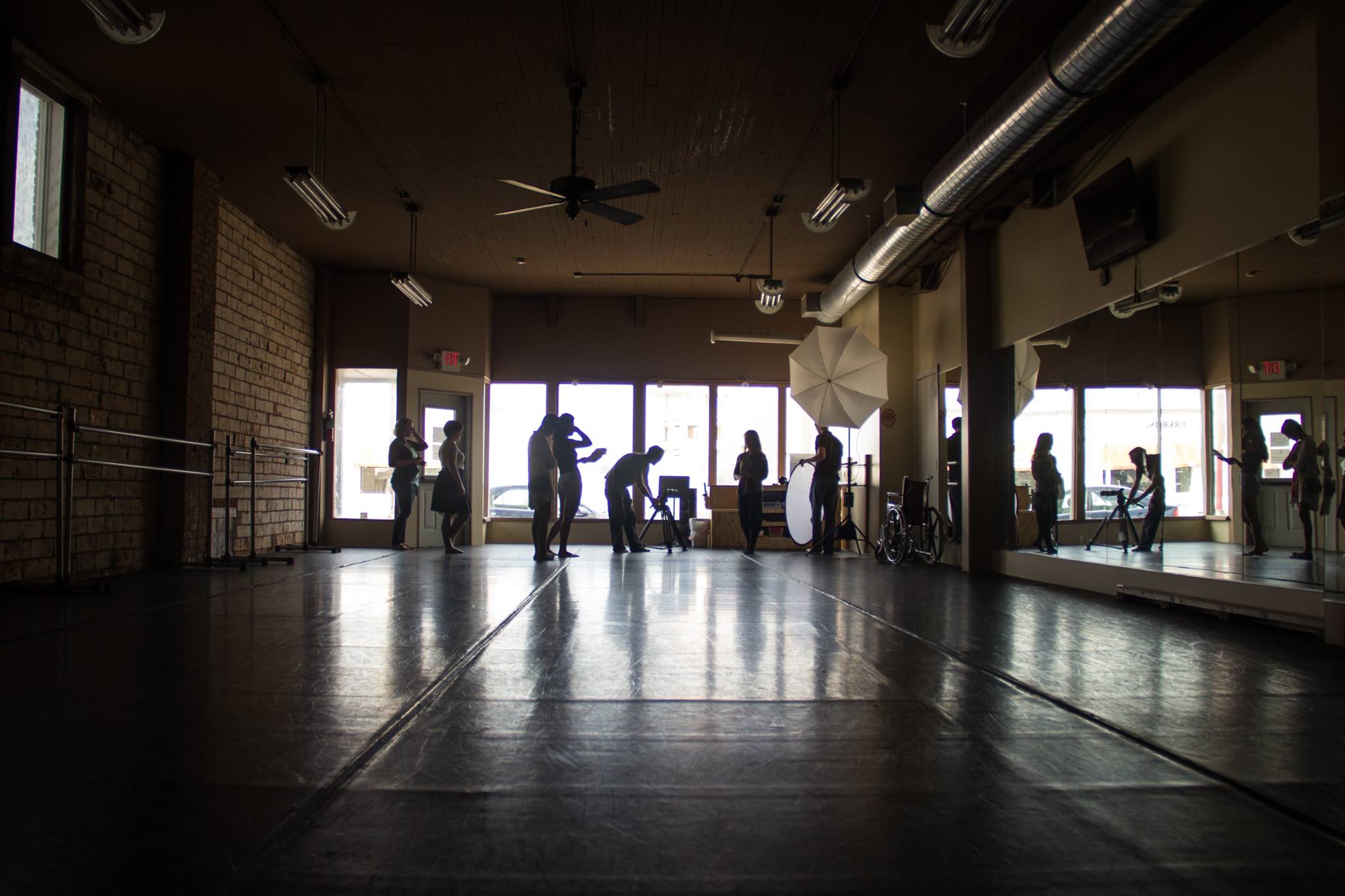 After the shoot, Olivia began editing. "I'd never worked with anything so beautiful. We had several hours of amazing footage. It was a great challenge and as I learned to say goodbye to many gorgeous shots, the story took shape. Our pre-production helped a lot here—if we hadn't planned out the main plot points, I would have had a harder time letting go of some shots that looked amazing but did nothing to drive the story."
Here in the studio, we see a lot of dialogue-free films as we put together the international Speechless Film Festival every spring. This is a particularly lovely example of a film driven by the score, and we're delighted that not only was it made locally, but also by our colleagues and graduates. Benji's score enforces the mood and tone while also looking into the thought-process of the dancer. Benji worked with the musicians and festival staff to rehearse in preparation for the showcase, and unsurprisingly the film showed very well at the Science Museum. "We received many heartwarming comments afterwards. I couldn't be more proud of the film and can only hope to take what I've learned and make it even better next time," said Benji.
"The night of the film fest, we were super psyched," Olivia adds. "To hear Benji's composition live paired with the film was a great experience and very humbling."
On that note, we're so proud to hear Benji's comments on what it was like to work with our program's graduates:
"Those media arts grads absolutely floored me. I really can't praise them enough. Nobody involved was just an artist or just a technician. Everyone was a collaborator. Jeremiah had such a great balance of artistic vision and technical skill with the cinematography, Olivia was a great center of communication and a really effective editor, and Leah is such a fantastic visual artist and fueled some excellent ideas. Everyone involved was invested, trusted, uniquely skilled, and highly creative, and that is a recipe for an outstanding collaboration. I have tried to work on film projects in the past and to be honest, I had never enjoyed it until this experience. It certainly refueled my interest in the medium and I would work with any of those guys again in an instant."
– Benji Inniger
Olivia echoes the sentiment, telling us the film crew wants to continue working with MNKINO in future years. We look forward to seeing more work from everyone involved in the project, but we're also excited to see what's next for Rise:
"I'm extremely pleased with what we accomplished in such a short time. This project was a great opportunity to get creative under pressure and that is what I believe makes us our best. We now have something beautiful to share. We're definitely planning to bring Rise to other film festivals."
– Olivia Lee
You can see more photos from the making of this short on Benji's website.